Burari hangings: Someone's mistakes harming family, warned 'notes' from dead father

Hindustan Times
11-07-2018
(Video by Times of India)
The death of 11 members of a family in north Delhi's Burari locality remains shrouded in mystery as more details emerge from the handwritten notes recovered from the house.
A note mentions someone's mistakes keeping the family from attaining 'something'. They warn about how the construction of the house was delayed and how 33-year-old Priyanka's 'manglik dosh' affected her marriage prospects as "someone did not follow what was written in the notes."
Full coverage of Burari deaths on MSN
Priyanka was the granddaughter of the family matriarch Narayan Devi.
The dead include 77-year-old Narayan Devi, her two sons Bhavnesh Bhatia (50) and Lalit Bhatia (45), their wives Savita (48) and Tina (42) respectively, Narayan's daughter Pratibha (57) and five grandchildren, Priyanka (33), Neetu (25), Monu (23), Dhruv (15) and Shivam (15).
All the bodies were found blindfolded with the mouths covered with surgical tapes and white cloth. The limbs of eight of the bodies were tied. Police said the autopsy reports of Narayan, Bhavnesh and Pratibha had revealed that they had died of "partial hanging". Except Narayan, who was found dead on the floor of a room, all the others were found hanging when police arrived.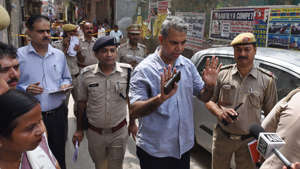 The notes recovered from the house also mention "wandering souls," and Lalit having visitations from his father's spirit during which he would act and talk like him and dictate notes, a police official said.
"Four souls are still wandering with me. If you improve yourself, these souls will be freed. You feel that by completing all the rituals in Haridwar, the souls achieve salvation. I am accompanied by the souls of others also," said the note written in Hindi on July 19, 2015.
The notes "quote" Lalit's father as saying that the souls of other members of the extended family – Sajjan Singh, Hira, Dayanand, Ganga Devi - were among those with him.

Singh was Lalit's father-in-law, Hira was the husband of his sister Pratibha, and Dayanand and Ganga Devi were in-laws of his sister Sujata Nagpal.
One of the notes cautions the family against not taking the notes seriously. "Dhanteras has already been celebrated. You are far from achieving something due to someone's mistakes. There is a possibility that you might not see the next Diwali. Don't ignore the warnings. (Dhanteras aakar chali gayi. Kisi ki purani galti ke aabhaav se kuch prapti se door ho. Agli Diwali na mana sako. Chetavni ko nazar andaaz karne ke bajai gaur kiya karo)," an entry said.
(with agency inputs)