Centre puts onus on Supreme Court on decriminalising homosexuality

India Today
11-07-2018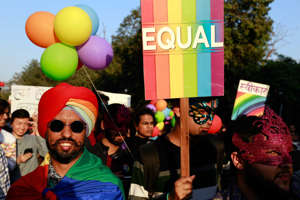 The constitutionality of the Indian Penal Code's Section 377, which criminalises homosexuality, is best decided by the Supreme Court, the government of India today said. The Centre said that it will leave the decision of decriminalising Section 377 to the wisdom of court.
The Centre made these comments in an affidavit filed by Additional Solicitor General Tushar Mehta. The affidavit was submitted in the Supreme Court over during an ongoing hearing on petitions filed against the court's 2013 ruling that in effect re-criminalised homosexuality.
The Centre also told the Supreme Court that while it would leave the issue of decriminalising homosexuality to the court, there should be safeguards against bestiality and harassment of children. ASG Mehta told the court that "perversions" such as incest and bestiality should not be allowed.
To this, Justice Chandrachud, who is on the five-judge Constitution bench hearing the matter, retorted that the Supreme Court is not considering kinks in sexual behaviour. "We want that two gay men holding hands and walking down Marine Drive are not arrested," Justice Chandrachud said.
Meanwhile, as the Centre filed its affidavit, Chief Justice of India Dipak Misra made an observation: What if the Supreme Court does not confine the current hearings to homosexuality and instead goes into the larger nature of debate around Section 377, including the matter of consensual sexual activity between adults?
The Supreme Court is currently hearing a bunch of petitions that have challenged the court's own order from 2013. That order had overturned a 2009 Delhi High Court judgment that read down the provisions of IPC Section 377 to in effect decriminalise homosexuality.
Section 377 was a law enacted in 1861 by the British and which provides for prison terms for anybody who "voluntarily has carnal inter¬course against the order of nature with any man, woman or animal."
(With inputs from Anusha Soni)
Also Watch- Section 377: Will Supreme Court make history
(Video provided NDTV)
More From India Today

India Today