Delhi CM Arvind Kejriwal leaves L-G's office as protest ends with IAS officers returning to work

Hindustan Times
19-06-2018
Delhi chief minister Arvind Kejriwal left Lieutenant Governor Anil Baijal's office to end a nine-day protest against an alleged strike by IAS officers working with his Aam Aadmi Party (AAP) government.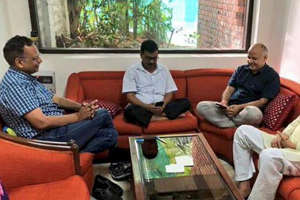 Deputy chief minister Manish Sisodia said IAS officers had attended meetings of the transport, environment and civil supplies ministries and he expected more civil servants to resume work.
Kejriwal, Sisodia, health minister Satyendar Jain, and development minister Gopal Rai had camped at Baijal's office-cum-residence since June 11, refusing to leave until the L-G made IAS officers end an alleged strike and make them cooperate with their Aam Aadmi Party (AAP) government.
Sisodia's statement came after Delhi's L-G Baijal urged Kejriwal to meet IAS officers at the Delhi Secretariat in his first response to the chief minister's sit-in protest after a week's silence.
Also watch this video on MSN: We are not on strike, say IAS officers
(Video provided by NDTV)
The IAS officers had on Monday indicated that they were open to formal discussions with the state government after Kejriwal assured them their safety and dignity.
"I wish to assure them that I will ensure their safety and security with all my powers and resources available at my command. I have given similar assurances earlier also to many officers who have been meeting me privately. I reiterate it," Kejriwal said on Sunday.