Delhi Metro briefly runs with a gate open on Yellow Line

Hindustan Times
12-09-2017
A metro train packed with passengers made its way from Chawri Bazar to Kashmiri Gate stations on Yellow line with one of its gates open.
The incident took place at 10 pm on Monday on the busiest line of Delhi metro network, connecting north Delhi to Gurgaon.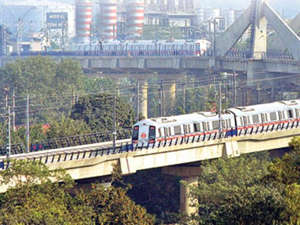 It was an unusual incident as the metro operating system is designed in a way that trains can't leave a station until all doors are locked.
Delhi metro officials said the "problem was only with one door and it was guarded by the DMRC staff".
#WATCH: At around 10 pm #Delhi Metro ran with its doors open between Chawri Bazar & Kashmiri Gate stations on the yellow line.(Mobile Video) pic.twitter.com/ciwH0ckyEF

— ANI (@ANI) September 11, 2017
"The train was taken to Vishwa Vidyalaya siding to avoid any delay or bunching," a DMRC official said.
A similar incident had occurred in July 2014 when a train had run with all its doors open between Ghitorni and Arjangarh stations on the same line.
The train operator was suspended for "safety lapse".
In 2012, a passenger's ankle had got stuck in a door of the metro train forcing him to cling on to the door till the train reached the next station.
The DMRC had termed the incident, which happened between Janakpuri West and Janakpuri East stations on Blue Line, a "freak incident".