Former J&K finance minister Haseeb Drabu resigns from PDP
Livemint
07-12-2018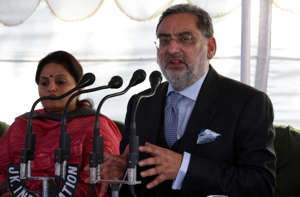 Former finance minister of Jammu and Kashmir and senior leader of the Peoples Democratic Party (PDP), Haseeb Drabu resigned from the primary membership of the party on Thursday, ending his four-year political journey in the state.
Drabu, who was handpicked by former chief minister and PDP chief Mufti Mohammed Sayeed to head the finance ministry of the state, tweeted his resignation letter which was sent to PDP chief Mehbooba Mufti.
"My legislative engagement has prematurely come to an end with the dissolution of the state assembly by the Governor. I don't agree with the timing and manner in which it was done. It doesn't credit either the democratic system or its custodian participants with any glory whatsoever. Be that as it may, the time has come for me to bid adieu," Drabu said in his resignation letter publicised on his Twitter handle.
Now get the stories that matter delivered to you! Save our number and send "Hi" to +919971254657 to join the MSN WhatsApp alerts service today.
Drabu further added in his resignation that he had resigned from the cabinet, assembly and party nearly two years ago, which Mehbooba Mufti did not accept. "I have disengaged myself from party affairs for quite sometime now. I didn't precipitate the matter because I believe it is ethically and morally wrong to leave the party under whose aegis one has contested and won the seat in the legislative assembly. Now that that it is over, I am hereby resigning from the PDP," Drabu wrote.
As an economist and Jammu and Kashmir finance minister, Drabu had contributed to the indirect tax reforms when he was a member of the goods and services tax council. He was also instrumental in J&K amending it's constitution to join the GST regime, thus integrating the Himalayan state with the rest of the economy. While he was a state minister, Drabu had also pursued the idea of a universal basic income.
Gireesh Chandra Prasad contributed to the story
Also watch: PoK part of Pakistan, J&K part of India, says Farooq Abdullah
(Provided by The Times of India)
Indian politicians: Then and now