Gurgaon: Unidentified persons try to mow down former Indian women's kabaddi coach

Hindustan Times
05-10-2017
© Provided by HT Media Limited Former coach of the Indian women's kabaddi team Sunil Dabas, who has also been a recipient of the Dronacharya Award, has alleged that she was attacked by unidentified persons on Thursday evening near the Mini Secretariat.
Dabas said she suffered internal injuries and hurt her hand in the incident. She was treated at a private hospital and sent home.
Dabas alleged that the attackers, in a Skoda sedan, tried to mow her down when she was taking a walk outside her residence, near the deputy commissioner's office.
In her complaint to the police, she raised suspicion on a group of persons who were breaking the gate and walls of a government office. She had objected to their action.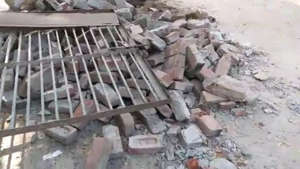 The police said that Dabas had a heated argument with some workers who were dumping construction material near her government residence, adjacent to the agriculture office.
A case in this regard was registered at Shivaji Nagar police station against the unidentified persons on her complaint.
According to her complaint, Dabas said that a group of 10 to 15 people had also reached the spot following the initial attempt to mow her down and she struggled for more than 20 minutes to save herself from their clutches.
"I was trying to call the police but I could not connect to the helpline. They tried to mow me down by driving the car at almost 100 kmph. I jumped a wall, then the gate, climbed a tree and ran atop a divider to escape them. After some time, a couple of cars reached the spot and around 15-20 bouncers and threatened me. My husband who came in a car was also threatened," Dabas said.
Dabas told Hindustan Times that the incident took place around 11pm, when she was walking towards the residence of her father, Atar Singh, which is also in the vicinity, and heard a loud noise.
She said that when she had seen a dumper demolishing the gate of the agriculture centre, she opposed the activity and asked the driver of the dumper to come out.
She said that even as she was speaking to the driver, some people in a speeding car tried to mow her down and she had to jump around seven feet to save herself. She said that the men tried to catch hold of her but she evaded them by pelting bricks at their vehicle, according to the complaint.
She also alleged laxity on the part of the police.
She said that when two police officers came to the spot, they did not take any action against the suspects and instead told her to go to the hospital.
"A case has been registered on the complaint of the coach at Shivaji Nagar police station and the matter is being probed," said Rajiv Kumar, assistant commissioner of police, city.