How Honeypreet entered Ram Rahim's high-tech gufa, decamped with Dera cash

India Today
13-10-2017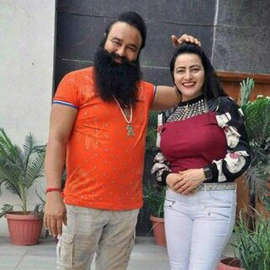 Soon after Gurmeet Ram Rahim Singh was convicted and sent to jail for raping two female followers, Haryana Police launched a massive sanitisation drive at the Sirsa headquarters of the Dera Sacha Sauda, the self-styled godman's religious sect.
The Dera was believed to have accumulated crores in donations and via sales of branded products. Which is why it was a surprise when authorities managed to recover a paltry Rs 12,000 in cash during the sanitisation drive.
COMPLETE COVERAGE: Ram Rahim rape case
What happened to the Dera's riches? It turns out that Ram Rahim's closest aide, Honepreet Insan, decamped with the sect's cash and valuables days before authorities launched the three-day sanitisation drive on September 7.
Honeypreet, sources told India Today, spent four nights at the Dera headquarters between August 25 and 28. With some help from Dera chairperson Vipasna Insan, who arranged a vehicle for Honeypreet, Ram Rahim's 'daughter' reached the headquarters at 2 am on August 25.
Also watch:
(Video by the Times of India)
In Sirsa, Honeypreet entered Gurmeet Ram Rahim's controversial 'gufa'. The gufa, it turns out, is highly secretive and can only be opened with the fingerprints of three people - Dera chief Ram Rahim, his trusted helper Dharam Singh and his 'daughter' Honeypreet.
Honeypreet confesses to inciting Panchkula violence
With both Ram Rahim (who was convicted and sent to prison on August 25) and Dharam Singh (who was arrested earlier in August) in jails, Honeypreet was the only one free to access the secret gufa.
Honeypreet used her fingerprints to open the doors to the gufa and removed the cash, valuables and some documents.
Then, using the security cover of a politician, Honeypreet left the Dera headquarters. She remained on the run for the next month, giving Haryana Police the slip several times.
Cops believe that a prominent Punjab-based builder helped Honeypreet while she on the run from the police. Cops are yet to arrest either the builder or the politician who is believed to have helped Ram Rahim's 'daughter'.
MISSING SUITCASES
While Honeypreet is now under arrest, authorities are still clueless about what happened to the cash and valuables that are believed to have been stored inside the Dera headquarters.
Sources said that intelligence reports have mentioned of the existence of certain suitcases Honeypreet was believed to have been carrying. However, what was inside the suitcases and where Honeypreet stashed the bags remains a mystery.
Police had some luck recently when they raided locations in Rajasthan's Gursar Modia, where relatives of Ram Rahim currently stay. Cops recovered some Dera documents that Vipasna Insan had transported to Gursar Modia.
Police, however, failed to recover Honeypreet's missing mobile phones as well as laptop that cops believe contains evidence that could prove that she helped plan the violence that was seen in the aftermath of Gurmeet Ram Rahim Singh's conviction for rape.
More From India Today

India Today