India, China, Pakistan trilateral cooperation can help maintain peace, says Beijing envoy; MEA dismisses suggestion

The Indian Express
19-06-2018
(Video by NDTV)
Chinese ambassador to India Luo Zhaohui suggested Monday that China, India and Pakistan have a trilateral meet on the sidelines of the Shanghai Cooperation Organisation (SCO) meetings. He also said India and China cannot afford another Doklam, referring to the standoff last year between troops of the two countries at the trijunction with Bhutan.

Later, responding to the remarks on India-Pakistan relations, Raveesh Kumar, official spokesperson for the Ministry of External Affairs, said: "We have seen reports on comments made by the Chinese ambassador in this matter. We have not received any such suggestion from the Chinese government. We consider the statement as the personal opinion of the ambassador. Matters related to India-Pakistan relations are purely bilateral in nature and have no scope for involvement of any third country."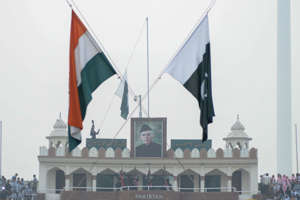 Luo, who was Beijing's envoy to Islamabad from 2006 to 2010, floated the trilateral meeting idea at a day-long seminar organised by the Chinese embassy on the theme 'Beyond Wuhan: How far and fast can China-India relations go' which was attended, among others, by NITI Aayog CEO Amitabh Kant, former Indian ambassadors to China Ashok Kantha and Nalin Surie, Russian ambassador Nikolay Kudashev and Bhutanese envoy Vetsop Namgyel.
"Security cooperation is one of the three pillars of the SCO. Some Indian friends suggested that India, China and Pakistan may have some kind of trilateral summit on the sidelines of SCO. So, if China, Russia and Mongolia can have a trilateral summit, then why not India, China and Pakistan?" he told the gathering, an assortment of China-watchers and specialists from the strategic community in the Capital.
After a 20-minute speech on India-China relations, when he was asked about the trilateral meeting suggestion, Luo said he personally considers it "a good and constructive idea".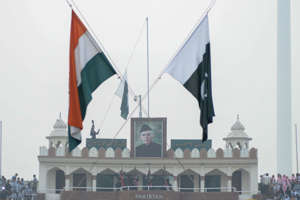 "May be not now, but in the future, that is the great idea. It will help to resolve bilateral issues and help to maintain peace and tranquility," he told reporters.
The Chinese government's statement about resolving bilateral issues is a nuanced departure from the traditional position that China has no intention of getting involved in bilateral disputes between India and Pakistan, and Beijing supports resolution of disputes between the two countries through bilateral negotiations.
Incidentally, Luo was Chinese ambassador to Pakistan during the 26/11 Mumbai terror attacks.
But many in the Indian establishment are not surprised by Luo's suggestion in bringing in Pakistan and India on the table, with interlocutors from Beijing. They pointed to Luo's suggestion last year — in May 2017, days ahead of the Belt and Road Forum in Beijing — when he suggested renaming the China-Pakistan Economic Corridor and include India as well. The comments made, through a prepared text, were, however, later erased by the Chinese embassy from its website.
Luo, who was one of the main Chinese interlocutors during the two-and-half-month Doklam standoff, also said Monday that the two sides cannot have another Doklam.
Underlining that it is quite natural to have differences with neighbours but they need to be controlled and managed through cooperation, he said, "We need to narrow differences through expanding cooperation. However, it does not mean that differences would be ignored. The boundary question between our two countries was left over by history. We need to build on convergence to find a mutual acceptable solution through the Special Representatives meeting while adopting confidence-building measures to maintain peace and tranquillity along the border."
"We cannot stand another Doklam (sic)," Luo said. There was no senior-level official from the Ministry of External Affairs in the audience.
Luo also suggested that India and China should think about signing a Treaty of Friendship and Cooperation. He said a draft on this was provided to the Indian side about 10 years ago.
"We would also like to negotiate a bilateral trade arrangement with India to expand trade relations. We may encourage economic cooperation on major projects such as new industrial parks and high-speed railway," Luo said, adding that the Chinese side is interested in Delhi-Chennai and Delhi-Agra bullet-train corridors.
Responding to a question on India-China cooperation in Afghanistan, Luo said the two countries have identified a programme to train Afghan public servants and diplomats. "This is a first step and in future, there is more…," he said. At the informal summit between Prime Minister Narendra Modi and President Xi Jinping at Wuhan, the two countries had agreed to work jointly on an economic project in Afghanistan.
Also watch: India's foreign policy in the neighbourhood not in good shape?
(Video by NDTV)
The envoy also called for cooperation between India and China on issues like rising protectionism globally.
"Against the backdrop of anti-globalisation and rising protectionism, China and India, as major emerging market economies, are faced with the pressure of established powers. We should coordinate our positions and also explore ways to be with each other," Luo said without naming the US.
He outlined his four-point formula for India-China ties: "Sign a Treaty of Friendship and Cooperation, negotiate a bilateral Free Trade Agreement, enhance connectivity and work for early harvest on boundary issues."
Stressing that Xi Jinping is the most prominent promoter of Bollywood movies in China, Luo said, "He mentioned Dangal, and two other movies, Baahubali 2 and Hindi Medium, which were being screened in China when he was meeting Prime Minister Modi in Qingdao".
"China-India relations have gone beyond bilateral scope. We have broad converging interests and face common challenges in Asia and beyond. We need to enhance coordination and cooperation in SCO, BRICS, G20 and join hands to tackle global challenges. We should give full play to high-level people-to-people and cultural exchange mechanism to enhance exchanges in fields of movies, sports, tourism, museum, youth."
"We will continue to promote religious exchanges, arrange pilgrims by Indian yatris to Kailash Mansarovar in China's Tibet," he said, continuing the assurance that yatra would not be affected as it happened last year.