Jharkhand: Two people lynched by 'gau rakshaks' for stealing cattle from villager

The Indian Express
13-06-2018
(Video by NDTV)
Two people, caught by villagers for allegedly stealing buffaloes, were thrashed by a mob leading to their death in a village under Deodand police station area of Jharkhand's Godda district on Wednesday morning. The police have arrested four persons in this connection and registered an FIR in connection with the murder. Besides, they have also registered an FIR for allegedly stealing buffaloes against unidentified persons. The police said that the victims reportedly have a history of stealing cattle and they were ascertaining their antecedents.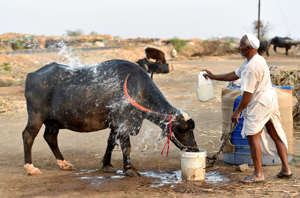 According to the police, the incident occurred this morning at Bankatti village on the border of Deodand and Sunder Pahari area in Godda. DIG (Dumka) Akhilesh Kumar Jha said four people have been arrested for their prima facie involvement in the incident. The victims had allegedly stolen the buffaloes from a village and were sneaking out when they were caught. Further investigations are on. Jha said the bodies of the victims – identified as Mumtaza Ansari of Taljhari village and Charku Ansari of Banjhi village in Poraiyahat police station area – have been handed over to their families following a post-mortem.

Godda Superintendent of Police Rajiv Ranjan Singh said there were five people who had come to a village under Deodand police station area and stole nearly a dozen buffaloes. They had managed to reach Bankatti village, about 2-3 km, when the villagers spotted them. A hue and cry were raised and the villagers from the one where the buffaloes were stolen and those of Bankatti gathered. They took under their custody nearly a dozen buffaloes, while three associates of the victims managed to escape. The two persons were caught by the villagers, who beat them up leading to their death.

Also watch: Assam lynching: Probe ordered into police lapses
(Video by Times of India)
Singh said two cases have been registered – one pertaining to the murder and the other for stealing buffaloes. The victims lived in a village nearly 30-40 km from the crime spot, police said. Prima facie, it has come to light that Charku Ansari had once gone to jail in a property offence. One of Murtaza's brothers was also sent to jail in a dacoity case recently, Singh said. Police officials said the place where the incident occurred was an area of Santhal tribals. Police force has been deployed in the area to maintain vigil.