Karnataka fallout: Goa Congress says they're single-largest party, will meet Governor to stake claim

The Indian Express
17-05-2018
(Video by Times of India)
A delegation of Goa Congress leaders led by its legislature party leader Babu Kavlekar will head to Raj Bhavan Friday morning and meet Governor Mridula Sinha staking claim to form government in the state.
"Yes, we have an appointment with the Governor tomorrow morning. We will be going to meet her and stake claim to form the government," Goa Congress president Girish Chodankar told IndianExpress.com, questioning how in Karnataka the same could be allowed.
Full coverage of Karnataka Elections 2018
"How can they have different yardsticks? If they have allowed the single-largest party to come to power in Karnataka, then they should allow that here as well. So we will meet her and tell her that," Chodankar added.
When asked if all the 16 MLAs would head to Raj Bhavan, Chodankar said most of them would. "Some of them are abroad, whoever is here will meet her."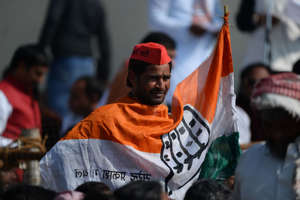 In the 2017 Goa Assembly elections, the Congress party emerged as the single-largest party with 17 of the 40 seats. Following the results, one of the MLAs Vishwajit Rane resigned from the Congress Party and the Assembly and joined the BJP.
In the Karnataka elections, the BJP emerged as the single-largest party with 104 of the 222 seats, a handful short of the halfway mark. While the Congress and JDS entered into a post-poll alliance claiming to have the required numbers, Governor Valabhai Vala invited BJP's BS Yeddyurappa to form government and administered him the oath of office this morning.
Karnataka Elections 2018: Top winners and losers