Kashmiri man deserts Army, joins militants

India Today
16-04-2018
(Video by NDTV)
An Army jawan who had been missing for past few days is suspected to have joined the militants in Jammu and Kashmir.
A picture showing him holding an AK47 rifle has gone viral. This has been a signature style of youngsters announcing that they have joined the militants.
The police say they are verifying the case. We have received reports but we are verifying the picture and the entire matter, said a top police officer.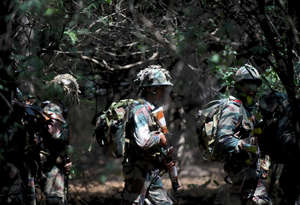 Sources say Mir Idrees Sultan has joined the militant group Hizbul Mujahideen. Idrees Sultan, who was part of Armys Bihar 12 JAKLI is a resident of Safnag in south Kashmirs Shopian district.
Mir has reportedly come home recently and has been missing from April 15.
From that day his phone has not been reachable, according to his family. The police have registered a case and have started a probe.
While the family has been looking out for him, a picture of Idrees holding a gun has gone viral on the internet.
If this is confirmed then he will be joining a long list of youngsters who have gone missing in areas of south Kashmir to join militant groups.
Also watch: A look at the aftermath of Syria airstrike
(Video by Dailymotion)
More From India Today

India Today