Lalu's bail plea cites 40% kidney failure, Jharkhand high court seeks CBI reply

Hindustan Times
21-04-2018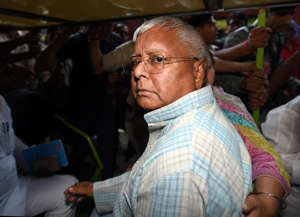 RANCHI -- Incarcerated Rashtriya Janata Dal (RJD) chief Lalu Prasad on Friday pleaded for bail in the Jharkhand high court, citing his deteriorating health condition, including decline in kidney functioning by 40%.
Prasad, in custody since December 23 last year after his conviction in three different fodder scam cases, is currently undergoing treatment at the All India Institute of Medical Sciences (AIIMS), New Delhi.
Prasad was convicted on December 23 last year and awarded 3.5-year jail term in the scam case related to fraudulent withdrawal of Rs 89.27 lakh from Deoghar treasury. The high court has already rejected his bail petition in this case.
Read: Government mulls death for raping minors
The RJD chief's second conviction came on January 24 in the case related to fraudulent withdrawal of Rs 33.13 crore from Chaibasa treasury. He was awarded 5-year imprisonment in this case. On March 19, he was convicted and sentenced to 14 years of rigorous imprisonment in the third case related to fraudulent withdrawal of Rs 3.76 crore from Dumka treasury between December 1995 and January 1996.
While the high court on Friday heard Prasad's bail plea in the Chaibasa treasury case, his petition in third case is yet to come up for hearing.
Also watch: Major breakthrough in Surat rape case
(Video by Times of India)
Furnishing his medical report issued by the AIIMS, Prasad, a former Bihar chief minister, said his kidney function had declined by 40% and he needed treatment at some specialised hospital. He argued that he had undergone surgery for replacement of valve at Asian Heart Institute, Mumbai, in 2014.
"The treatment of kidney related present problem, which requires surgery for removal of stones, cannot be done without consultation and approval of expert cardiologists, who had treated Prasad earlier," Prasad's lawyer Prabhat Kumar said.
Kumar said as per AIIMS report, Prasad had uncontrolled blood pressure and diabetes. "No significant improvement has been witnessed in his health condition in the last fortnight," he said.
Read: Shiv Sena attacks PM Modi's silence
The bench of Justice Aparesh Kumar Singh asked the CBI to furnish its reply in response to Prasad's plea by May 4, the next date of hearing.
Of the six (five in Ranchi and one in Patna) fodder scam cases registered against Prasad by the CBI in 1996, four have ended in his conviction. He was first convicted and sentenced to 5 years of jail term in September 2013 by a Ranchi court.
The conviction disqualified him from the membership of the Lok Sabha and barred him from contesting elections for six years. He was released on bail granted by the Supreme Court the same year.