Meal optional on rail ticket

The New Indian Express
06-10-2017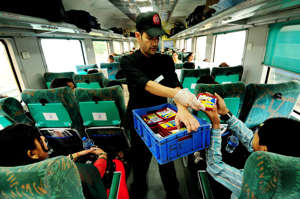 © Pradeep Gaur/Mint via Getty Images (File) Bhopal Shatabdi Express New Delhi: Passengers travelling by the premium Rajdhani, Shatabdi and Duronto trains may soon have the option of not availing the mandatory catering service, which is likely to cut ticket prices by an average of Rs 250 depending on the length of journey.
Catering has been made optional for a period of six months till January 31, 2018, with a mid-term review after three months.
Also read: 8 extraordinary Indian rail journeys you must experience
The option is also available on the Mumbai-Goa superfast Tejas Express.
The option is being given because many passengers do not want to have meals served on trains.
Also watch on MSN:
(Video by the Times of India)
More from Gadgets & Gizmos

The New Indian Express