Mehbooba Mufti Was "Surprised"; Got Call From Governor, Not BJP: Sources

NDTV
19-06-2018
The BJP's decision to withdraw support from the Jammu and Kashmir coalition caught Chief Minister Mehbooba Mufti by surprise, suggested leaders of her People's Democratic Party (PDP) on Tuesday. Sources say Ms Mufti was in her office when she received a phone call from Governor NN Vohra. The BJP, her coalition partner of three years, was not the one to inform her of the break-up, say sources.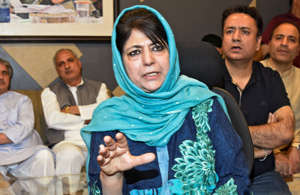 Also read on MSN: What Mufti said after split with BJP
Soon after the governor's call, Ms Mufti went to his residence Raj Bhavan and resigned.
Then she reportedly called an emergency meeting of the PDP. Sources said this morning, she had even accepted an invite to a launch.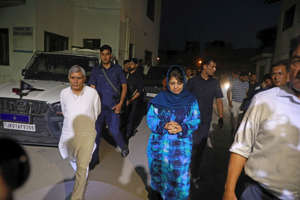 Also read on MSN: BJP-PDP alliance ends in J&K
In Delhi, the BJP leader who was recently appointed her deputy, Kavinder Gupta, said that the resignations of all BJP Ministers had been sent to the Chief Minister.

"The Governor is being intimated of the decision and it is now for the Governor to decide the next constitutional step in the state," he said.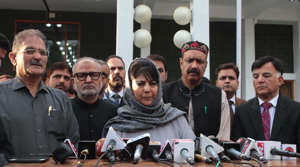 That Ms Mufti was caught off-guard was also indicated by her predecessor Omar Abdullah of the National Conference, who said the "rug had been pulled from under her feet".
"She was cutting ribbons while the BJP was cutting her legs out from under her. How I wish she had left with her head held high and her dignity intact! She was J&K's CM, not of the BJPDP
Omar Abdullah said he had advised her to exit the coalition earlier but she didn't listen.
Amid deteriorating ties over the past few weeks, the BJP and the PDP were seen to be playing the waiting game.
This morning, when the BJP summoned all its Jammu and Kashmir ministers to Delhi for a meeting, there was no clear sign of an imminent bomb-shell.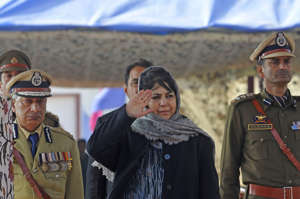 BJP leader Ram Madhav said BJP continuing in the government had become untenable. "We have, therefore, decided to pull out of the ruling coalition."
He said the security situation in Jammu and Kashmir had worsened to such a degree that the decision had to be taken "for the sake of the country's integrity".
Watch video: 'Untenable' to continue alliance with PDP, says BJP
(Video provided by NDTV)
After the 2014 Assembly elections, the PDP and the BJP cobbled up a coalition government based on a mutually agreed agenda of alliance.