Missing MLAs, An "Offer" of Ministry, A Day After Split Karnataka Verdict

NDTV
16-05-2018
WATCH: Watch analysis of Karnataka cliffhanger
Bengaluru, Karnataka: As five Karnataka lawmakers went "incommunicado" on Wednesday morning, an orange alert went out across the Congress-Janata Dal Secular (JDS) combine, which claims enough numbers to form government after a hung verdict in the state.
Complete coverage of Karnataka elections
LIVE RESULTS | CONSTITUENCY WISE RESULTS
A meeting of newly-elected Congress legislators was delayed in the morning as the party couldn't communicate with three of its lawmakers, Rajshekhar Patil, Nagendra and Anand Singh. Anand Singh and Nagendra are believed to be close to the Reddy brothers linked to the BJP. Two JDS members, Raja Venkatappa Nayaka and Venkata Rao Nadagouda, were also missing from their party's meeting at a five-star hotel in Bengaluru.
Another Congress lawmaker claimed he had been approached by the BJP, which had yesterday asked Governor Vajubhai Vala for a chance to prove its majority.
ALSO READ: Congress reached out for alliance 3 days ago, Deve Gowda party leader says
"I got a call from the BJP leaders. They said come to us and said we'll give a ministry to you. We'll make you a minister. But, I'm going to stay here. HD Kumaraswamy is our chief minister," said Amaregouda Linganagouda Patil Bayyapur.
A JDS lawmaker Sarvanna has reportedly said four or five of his colleagues were approached.
IN PICS: Top winners and losers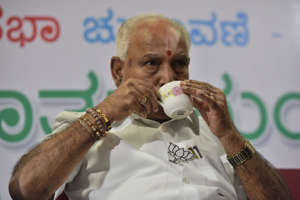 Outgoing chief minister Siddaramaiah of the Congress, however, denied the "missing" reports. "All the Congress MLAs are intact. Nobody is missing. We are confident of forming the government," he said as he arrived at the Congress party headquarters for the lawmakers' meeting.
ALSO READ: A look at Karnataka's tryst with rocky coalition governments
Congress leaders say there are plans to sequester their legislators. "They (BJP) are poaching our MLAs, and we know that. Everyday, there is a lot of pressure. But it is not so easy as two parties have the necessary numbers. However, we are taking all necessary steps," said Congress leader DK Shivakumar.
A BJP leader said on record that his party is in touch with Congress and JDS legislators. "The people of Karnataka have believed in BJP, (Prime Minister Narendra) Modi and Amit Shah. That is why the BJP will form the government here. A lot of people are angry within the JDS and within the Congress. They will come to BJP," said BJP leader KS Eshwarappa.
The Karnataka verdict has left room for negotiations as the BJP is desperate for numbers, allege Congress and JDS leaders.
The BJP emerged as the largest party in Karnataka but missed the magic number of 112 by eight seats. The Congress has won 78 seats and the JDS's 38. Along with two independents, the combine claims a comfortable majority.
The fear of "MLA shopping" was raised yesterday by JDS leader HD Kumaraswamy, who is looking to become chief minister with the support of the Congress despite his party finishing third.
Mr Kumaraswamy accused the BJP of launching "Operation Lotus Part 2". In 2008, in the manoeuvre that critics dubbed "Operation Lotus", at least six JDS and Congress resigned and crossed over when the party was short of a majority.