PM Modi to visit China on April 27 and April 28 for informal summit with President Xi Jinping

India Today
22-04-2018
(Video provided by NDTV)
Prime Minister Narendra Modi will meet Chinese President Xi Jinping in Wuhan, China, on April 27 and April 28, marking an unprecedented informal summit.

This will be the first high-profile meeting between the two neighbouring countries after the Doklam stand-off.
The last high-level engagement between India and China was in December 2017.
Also read on MSN: Sushma meets Wang, upbeat on Sino-Indian ties
External Affairs Minister Sushma Swaraj is in China on a four-day tour. She today held key bilateral talks with her Chinese counterpart Wang Yi in Beijing.
Wang said the visit to Wuhan in Hubei province at Xi's invitation would be historic and "a new milestone" in relations.
"We see socialism with Chinese characteristics entering a new era and India acts as a crucial stage in its development and revitalisation. It is against this backdrop that President Xi and Prime Minister Modi have decided to hold the informal summit," Wang Yi said.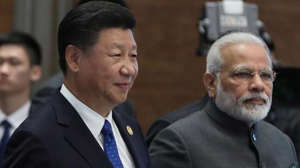 Sunday's meeting is seen as setting the stage for the upcoming visit by Prime Minister Modi to China.
The Wuhan visit is unprecedented as the PM will also likely be in Qingdao in early June for the Shanghai Cooperation Organisation (SCO) summit.
Sushma's meeting with Wang was the first after he was promoted in March with the additional portfolio of State Councillor or top diplomat, which Swaraj confirmed will come with the added responsibility of taking over as Special Representative (SR) on the border talks with India.
Swaraj congratulated Wang on his taking over as SR.
On Tuesday, Swaraj will attend a summit of SCO foreign ministers. 

ये भी पढ़ें: कभी 350 रु. कमाता था ये भारतीय, अब इंग्लैंड में है करोड़ों की कंपनी का मालिक 
More From India Today

India Today