President Kovind? It's A Duty, Says The Candidate To NDTV On A Plane

NDTV
19-06-2017
New Delhi: On a plane to Delhi, Ram Nath Kovind, likely to be the next President of India, told NDTV of his nomination by the BJP, "It's a duty, let's take it as such."
ALSO READ: Bihar governor Ram Nath Kovind is NDA's presidential candidate

The 71-year-old is a political unknown, but his candidature scores several important points for the ruling party. He is seen as a committed BJP worker, so the party has rewarded one of its own. He is a farmer's son who rose through the party ranks - Prime Minister Narendra Modi has underscored his modest background. He is a Dalit, which signals the BJP's commitment to the caste that it has been wooing across different states and makes it very tough for other parties to object to his promotion.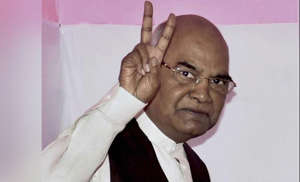 Mr Kovind, a two-time parliamentarian, was made Governor of Bihar in 2015. Unlike in other states, where Chief Ministers have accused Governors of working to promote the interests of the centre, Bihar has seen an amicable relationship between Mr Kovind and Chief Minister Nitish Kumar, who visited him in person this evening to congratulate him on his candidature.
Asked if he ever aspired to Rashtrapati Bhavan, Governor Kovind said told NDTV, "I wasn't thinking in those terms. I was busy, working here, quite satisfactorily."
ALSO READ: Who is Ram Nath Kovind?
Governor Kovind has also headed the BJP group that works to improve the conditions of Dalits. If elected, he will be India's second Dalit president after KR Narayanan, who served from 1997 to 2002.
The opposition, led by the Congress, will meet on Thursday to decide whether to name a separate candidate or support him. But already, opposition leaders are indicating it will be tough to fight a Dalit candidate.
Mr Kumar said his party will make its decision after the Thursday session. Mayawati, a Dalit leader, said, "As he is a Dalit, we are positive on his name, but only if the opposition doesn't announce a popular Dalit name (too)."
Journalist Swati Chaturvedi, in a column on ndtv.com, wrote, "Modi and Shah have shrewdly ensured that they cause a strategic split in the opposition camp while getting an ideological fellow traveller into Rashtrapati Bhavan."