Prime Minister Narendra Modi Flags Off Kerala's First Metro In Kochi: 10 Points

NDTV
17-06-2017
KOCHI: The Kochi Metro, Kerala's first metro line, was inaugurated by Prime Minister Narendra Modi, who also took the ride on the newly constructed rapid transport around 10.30 am. He was joined by other dignitaries including Kerala Governor P Sathasivam, Chief Minister Pinarayi Vijayan, Urban Development Minister Venkaiah Naidu as well as E Sreedharan, popularly known as India's 'Metro Man'.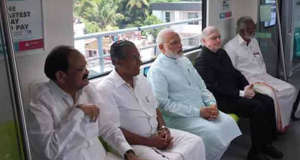 1. Prime Minister Narendra Modi inaugurated the first phase - 13.2 km of the total 25 km stretch - of the Kochi metro today.
2. The Prime Minister, along with other dignitaries, undertook a ride from the stations of Palarivattom to Pathadippalam in the city.
3. With 11 stations covering nearly 13 km - from Palarivattom to Aluva - this is the longest first phase of a metro to be inaugurated.
4. By road, it takes around 45 minutes to travel from Aluva to Palarivattom. The Metro will limit the travel time to 23 minutes.
5. The Kochi Metro is the first in India to use Communication Based Train Control technology to maximise frequencies and minimise errors.
6. Each station will showcase a theme, such as maritime history, western ghats as well as the local history of the city, among others.
7. Each station on the Kochi Metro will have solar panels, which will focus on producing 35 per cent of the total power usage.
8. The Kochi Metro Rail Corporation has also decided to employ transgender people in stations.
9. The construction of the Kochi Metro began in 2013 and was tasked to the Delhi Metro Rail Corporation. The DMRC was once headed by E Sreedharan, who also acted as an advisor in the new project.
10. According to the Kochi Metro website, the project cost an estimated Rs. 5,180 crore. The fare will vary from a minimum of Rs. 15 to a maximum of Rs. 30.