Rahul Gandhi to PM Modi: Fast track rape cases if serious about 'justice for our daughters'

India Today
16-04-2018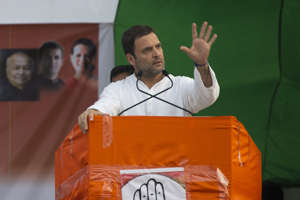 Rahul Gandhi on Monday asked Prime Minister Narendra Modi to fast track rape cases if he's "serious" about providing justice for Indian women.
The Congress president made the appeal in a tweet. "There were 19,675 rapes of minor children reported in 2016. This is shameful," he wrote.
Read: Protect Kathua child's family, orders SC
Last week, Gandhi urged his Twitter followers to join him at a candlelight vigil to protest gangrapes reported in Kathua in Jammu and Kashmir, and Unnao in Uttar Pradesh.
There were 19,675 rapes of minor children reported in 2016. This is shameful.

PM should fast track these cases and punish the guilty if he is serious about providing "justice for our daughters". #SpeakUp

— Rahul Gandhi (@RahulGandhi) April 16, 2018
"India simply cannot continue to treat its women the way it does," he then wrote. Civilians and Congress leaders answered his call, and swarmed the lanes around India Gate early Friday morning.
That very evening, Prime Minister Narendra Modi said India was "ashamed."
Read: 2019 polls won't be easy for BJP
"The task of eliminating this internal evil of our society, we all have to do together," he said at the Dr Ambedkar National Memorial.
In the last week, top Opposition leaders, retired civil servants, and Indian students and alumni in the UK have called on him to act.
Also watch on MSN: Countrywide Protests Over Kathua, Unnao Rape Cases
(Video by NDTV)
"The unspeakable horror of the Kathua and the Unnao incidents shows that the Government has failed in performing the most basic of the responsibilities given to it by the people," the former bureaucrats wrote.
"We, in turn, have failed as a nation which took pride in its ethical, spiritual and cultural heritage and as a society which treasured its civilisational values of tolerance, compassion and fellow feeling."
(Inputs from PTI)
In pics: Syrian youth practice parkour amid ruins of war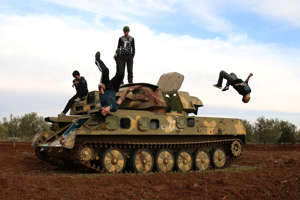 More From India Today

India Today