RSS Makes Its Stand Clear On Amit Shah's Son

NDTV
12-10-2017
New Delhi: Amid political sparring over a report alleging that BJP chief Amit Shah's entrepreneur son Jay Shah benefited after the party came to power, the Rashtriya Swayamsevak Sangh (RSS) has clarified its stand. On the sidelines of a meeting in Bhopal, the organisation today said the allegations have to be evidenced to make them worthy of investigation.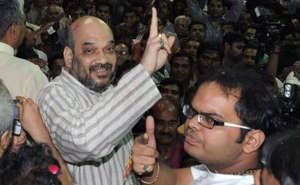 RSS joint general secretary Dattatreya Hosabale said: "If there are corruption allegations against anyone, they should be investigated. But there has to be prima facie evidence of wrong-doing."
Asked whether he thought there was a case against Shah junior, Mr Hosabale replied: "It is for those who have made the accusation to prove the charge."
Jay Shah has sued The Wire, a news website, for 100 crores for defamation for reporting his firm's revenues escalated by 16,000 times after the BJP came to power. The report also questioned allegedly unsecured loans given to Jay Shah's firms, including from a state-run firm that reports to the Power Ministry.
NDTV cannot independently verify the allegations.
The RSS is the ideological mentor of the BJP, which has emphatically shot down the charges saying that loans were obtained transparently and repaid in full with interest.
The BJP has been aggressively targeted by the Congress and Rahul Gandhi, who remarked recently: "The two beneficiaries of the business dealings of Amit Shah's son Jay are Narendra Modi and Shah. Achche din aa gaye unke (good days have arrived for them)."