Son ties mom's body to bike, drives it for postmortem in Madhya Pradesh

Hindustan Times
11-07-2018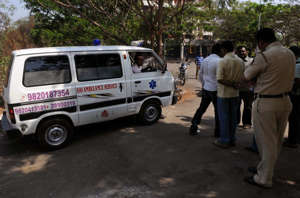 A video clipping of a youngster transporting his mother's body on a motorcycle to a postmortem centre in Tikamgarh district went viral on Tuesday, causing a flutter in the administration and the police department.
According to police officers familiar with the matter, the woman, Kunwar Bai, a resident of Mastapur village was bitten by a snake on Sunday and died despite efforts to rush her to a community health centre at Mohangarh.
The local police then reportedly asked Rajesh, the woman's son, to take her body to the postmortem centre at Tikagamgarh district headquarters, about 35km away. The administration, however, did not provide Rajesh a hearse.
Rajesh then reportedly tied his mother's body on his motorcycle and transported it with help from his cousin. While bringing the woman's body back to the village, Rajesh was, however, provided a hearse by the hospital administration. 
When asked about the incident, district collector Abhijeet Agrawal said he was told by the health department authorities that immediately after the snake bit his mother, Rajesh wanted to take her to a temple in the hope that she would be cured. 

He later took her to the district hospital where she couldn't be saved.
He said the health department provided Rajesh a hearse for his journey back to the village from the hospital.
Had the youngster tried to contact a 108 ambulance, he would have got a hearse to take his mother to the district hospital, added the collector.
(With inputs from Anupam Pateriya in Sagar)
Also watch: Inside footage of the Thai cave
(Video provided by NDTV)