Supreme Court orders protection to Kathua victim's family, lawyer; issues notice to J-K govt

Hindustan Times
16-04-2018
(Video by NDTV)
The Supreme Court on Monday issued a notice to the Jammu and Kashmir government on a petition to shift the trial of the eight accused in the Kathua gang rape and murder case out of the state and ordered protection for the victim's family and their lawyer.
Even as the trial got underway on Monday in a Kathua court, the father of the 8-year-old victim had moved the apex court seeking to shift the trial to Chandigarh, saying he would not get a fair hearing in Jammu.
The crime has evoked shock and outrage across the country and has resulted in resignation of two BJP ministers who addressed a rally in support of the accused from the Jammu and Kashmir government. Hundreds of lawyers have also marched in support of the accused.
Read: I can be raped or killed, says Kathua victim's lawyer
Ahead of the trial, the lawyer said she had been threatened with rape and death for taking up the case. "I was threatened yesterday that 'we will not forgive you'. I am going to tell Supreme Court that I am in danger," said lawyer Deepika Singh Rajawat.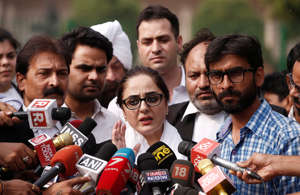 Earlier on Monday, all eight accused pleaded not guilty in the principal district and sessions court in Kathua, which posted the next hearing in the case for April 28.
In January, the girl, who belonged to the nomadic Muslim Bakarwal community, was held captive in a temple and sexually assaulted for a week before being strangled and battered with a stone, the police charge sheet said.
According to the charge sheet, the kidnapping, rape and killing of the girl was part of a plan to drive the Bakarwals out of Kathua district.