Surat rape case: Post-mortem reveals girl was raped, tortured for 8 days; identity yet to be ascertained

India Today
16-04-2018
The minor, whose body was found earlier this month in Gujarat with 89 injury marks, was allegedly held captive, tortured and raped before being killed, Surat Police said on Sunday.
The body of the girl, believed to be between 9 and 11 years of age, was spotted lying among bushes in a cricket ground on April 6 in the Bhestan locality of Surat district by some passersby, who informed the police.
Read: Protect Kathua child's family, orders SC
According to the autopsy report, there were 86 injury marks on her body, including around her vagina, indicating that she was tortured and raped. She was strangulated, the report said.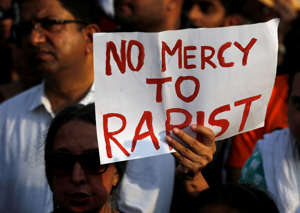 However, the identity of the girl, her family and the perpetrators of the crime remain unknown. The girl's pictures have been circulated, hoping that someone will identify her and alert the police. Police have announced a reward of Rs 20,000 for anyone coming forward to give information about the girl
"The police are yet to identify the girl. We have taken the help of print as well as social media, like WhatsApp, to spread her pictures with the hope that someone who knows her would identify her," said inspector K B Jhala of Pandesara police station.
Read: Row over Unnao victim's age
Ganesh Govekar, a doctor at a city civil hospital where the postmortem was conducted, said there were as many as 86 injury marks on the body of the girl. "Going by the nature of the injuries, they seem to be caused in the period ranging from one week to one day prior to the recovery of the body, suggesting that the girl might have been held captive, tortured and possibly raped," said Dr Govekar
The Forensic Science Laboratory (FSL) has been roped in for the investigation. Police have registered a case under sections 302 (Punishment for murder), 323 (Punishment for voluntarily causing hurt), and 376 (Punishment for rape), and under provisions of the Protection of Children from Sexual Offences Act (POCSO) against unidentified persons.
(with PTI inputs)
More From India Today

India Today