US backs India's opposition to One Belt, One Road plan

Hindustan Times
05-10-2017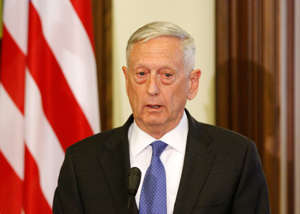 © Vladimir Shtanko/Anadolu Agency/Getty Images (File) US Secretary of Defense Minister James Mattis Washington, Oct. 5 -- The United States has reiterated its support for India's opposition to China's One Belt, One Road (OBOR) initiative, a part of which traverses Pakistan-occupied Kashmir, with defence secretary James Mattis telling lawmakers "no one nation should put itself into a position of dictating such a project".
"In a globalised world, there are many belts and many roads, and no one nation should put itself into a position of dictating 'one belt, one road'," Mattis told members of the Senate Armed Services Committee during a hearing on Tuesday on the US administration's new Afghanistan-centric South Asia strategy.
US support for India's opposition to the Chinese project was first reflected in the joint statement issued by the two countries after Prime Minister Narendra Modi's meeting with President Donald Trump here in June.
It said the two countries, in respect to their policies in the Indo-Pacific Region, "support bolstering regional economic connectivity (read the OBOR project) through the transparent development of infrastructure and the use of responsible debt financing practices, while ensuring respect for sovereignty and territorial integrity (that was about the project passing through PoK), the rule of law, and the environment; and call on other nations in the region to adhere to these principles".
Month after Doklam withdrawal, more Chinese troops on the plateau than ever before
Mattis was clearer, mentioning the project by name, and spelt out India's objection to the China-Pakistan Economic Corridor without naming it.
"The One Belt, One Road also goes through disputed territory, and I think, that in itself shows the vulnerability of trying to establish that sort of a dictate."
Also watch on MSN:
(Video by NDTV)
For any query with respect to this article or any other content requirement, please contact Editor at content.services@htlive.com
HT Digital streams Ltd