After boycott The Kapil Sharma Show, unsubscribe Sony TV trends on Twitter

India Today
17-02-2019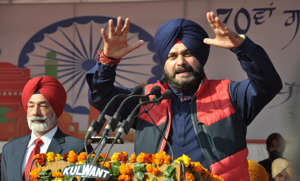 Navjot Singh Sidhu received a severe backlash for his comment on Pulwama terror attack. The former cricketer-turned-politician's comment on Pulwama attack--Terrorism has no religion, no nation-- created a huge outrage on Twitter. Earlier, Twitterati was asking fans to boycott The Kapil Sharma Show and Sony TV to kick Sidhu out of the show.
However, now the irate netizens want fans to unsubscribe Sony TV and delete its app from their phones, as the channel hasn't confirmed Navjot Singh Sidhu's ouster from the show. Today Sony TV released the promo featuring Archana Puran Singh, who is rumoured to be replacing Sidhu on the show. Archana had shot for a couple of episodes as Sidhu was busy with something else. However, this didn't help as Sony had earlier tweeted about welcoming Archana from next Sunday onwards and quickly replaced the tweet with a new one, which made the Twitterati doubt the channel about Sidhu's ouster from The Kapil Sharma Show.
Have a look.
Navjot Singh Sidhu condemned the Pulwama attack and said, "For a handful of people, can you blame the entire nation and can you blame an individual? It (the attack) is a cowardly act and I condemn it firmly. Violence is always condemnable and those who did it must be punished."
Twitterati has been asking Sidhu to apologise for his comment and after #BoycottTheKapilSharmaShow, they are now trending ##UnsubscribeSonyTV to build pressure on Sony to sack Sidhu from The Kapil Sharma Show. Archana's episode will be aired next Sunday but the channel has aired the promo a week in advance. Looks like Sony TV wants to stay away from any controversy and doesn't want to take any risk at this moment. However, their silence is not going down well with people.
Here are some of the tweets.
Do not trust the media that @SonyTV has removed @sherryontopp from #TheKapilSharmaShow. There is no official confirmation from @SonyTV. Tweet with hashtag #UnsubscribeSonyTV If you are already unsubscribed @SonyTV or Going to Unsubscribe it. #FirkyGang pic.twitter.com/UAmx3ENtBh

Abhishek Kumar (@firkydost) February 17, 2019
"I don't want to waste my time talking about them."

Major @generalbakshi exposes the hypocrisy of Navjpt Singh Sidhu,Mehbooba Mufti& those who are advocating peace in the name of #Kashmiri spirit. India should and must hit back! #ExposeDeshDrohis#UnsubscribeSonyTV pic.twitter.com/BS5DFwhIYy

Geetika Swami (@SwamiGeetika) February 17, 2019
@SonyTV ur not above our jawans. Let ur business go to dustbin we don't care. My dear brothers n sisters continue to unsubscribe Sony TV, as they have not come with any official confirmation about Sidhu's sacking. #UnsubscribeSonyTV #boycottkapilsharmashow #boycottsidhu pic.twitter.com/mLC6xs85SZ

Sharan_Explorer (@SharanAdventur1) February 17, 2019
If sidhu still remains on your show, we will be boycotting your channel by unsubscribing @SonyTV . We will make sure others will join us too. #UnsubscribeSonyTV

Zunera Bibi Aslam (@BibiZunera) February 15, 2019
Don't believe in Media/News till any official confirmation from @SonyTV on Sidhu. He was on Kapil Sharma show yesterday,Yes it was Pre Recorded but we want official confirmation.Tweet with hashtag #UnsubscribeSonyTV if you unsubscribed ur Sony pack or you are going 2 unsubscribe

Tajinder Pal Singh Bagga (@TajinderBagga) February 17, 2019
Just remember the fate of #Snapdeal for the delay in removing intolerant Amir Khan. It is become a non player now. @SonyTV get ready to be forced out of business if you do not ban @sherryontopp Act immediately

February 17, 2019
#UnsubscribeSonyTV and give 1 star rating until they come out and confirm the ban of @sherryontopp They must know that India is not going to stop until all these anti national elements are taught a lesson.

Shubham Sharma (@_Sanskari_af) February 17, 2019
#UnsubscribeSonyTV Deleted Sony Liv App. Unsubscribing Sony TV unless official statement comes from Sony TV on sacking Sidhu from Kapil Sharma show for good... pic.twitter.com/aw5Rh8ZSKI

Abhay Pasad (@ADPasad) February 17, 2019
Yes, How Sony tv is still showing Siddhu on kapil Sharma show...SHAME to them...sack Siddhu immediately & no other TV will dare to show unpatriotic person...

surjeetchopra (@surjeetchopra1) February 17, 2019
ALSO WATCH: Navjot Singh Sidhu sacked from 'The Kapil Sharma Show' after his comments on Pulwama terror attack (Times of India)
Photos capture devastating aftermath of Kashmir terror attack
More From India Today

India Today