Air India plans expansion to fill Jet Airways void; flights to Nairobi, Hong Kong, Bali likely soon

The Financial Express
16-06-2019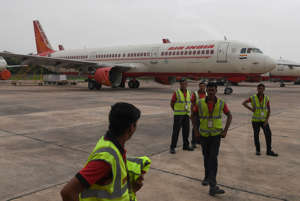 With significant drop in overseas capacity due to Jet Airways' grounding, national carrier Air India plans to expand its network by adding destinations like Nairobi, Hong Kong and Bali. Senior airline officials told FE that operations would commence on these routes by October.
The national carrier has already bagged unused flying rights of grounded Jet Airways to cities like Dubai, Doha and London. Air India increased frequencies on Delhi-Dubai and Mumbai-Dubai routes from June 1. Air India is looking to take advantage of the massive drop in capacity on overseas routes due to Jet's grounding on April 17. International capacity, measured in terms of available seat kilometres, for Indian carriers was down 17% year-on-year in April due to closure of Jet, as per the Directorate General of Civil Aviation. Around 70% of Air India's revenue come from international operations.
As per travel firm Cleartrip, average fares during April and May were higher by up to 30 % y-o-y on major routes to Dubai, Singapore, London and Thailand. Jet's share in international seat capacity from Delhi and Mumbai stood at 14.5% and 28.5%, respectively, in January 2019.
Jet was the largest Indian carrier of passenger traffic to Hong Kong. While budget airline IndiGo recently announced direct flights to Hong Kong from Kolkata, SpiceJet also plans to introduce services to the east Asian territory. Nairobi in Kenya and Indonesia's Bali would be new destinations for Air India. The airline is likely to connect Chennai with the Bali island.
Since Jet's closure, Air India is now the largest carrier on overseas routes. However, it is grappling with lack of funds, forcing several of its aircraft to remain on the ground. The airline currently has 14 aircraft on ground (AoG) awaiting replacement of engines and their spare parts, which it hopes to make airborne by October this year.
"AoGs have come down to 14 after four aircraft, including Boeing 777s, rejoined the fleet in the last two months. We have made plans to resolve the engine issues by October," an airline executive said. It has a fleet of 128 aircraft, including 49 wide-body planes, of which Boeing 777 and Boeing 787s are a part.
As per aviation consultancy firm CAPA India, outbound flights to international destinations from India could decline up to 5% y-o-y in FY20.
Watch: Are India's GDP growth numbers a myth? (Provided by NDTV)