Ex-Jet Airways chairman Naresh Goyal, wife denied permission to travel abroad

The Indian Express
25-05-2019
(Provided by The Times of India)
Former Jet Airways chairman Naresh Goyal and his wife were stopped from travelling abroad at Mumbai airport by the Bureau Of Immigration (BoI) Saturday, PTI quoted officials as saying.
The couple was to travel by Dubai-bound Emirates flight EK 507, which was scheduled to depart at 3.35 pm, when the immigration authority denied them permission to fly, the officials added.
Further, the checked-in baggage was also offloaded from the flight.
Goyal quit as the chairman of the board of Jet Airways on March 25 and he and his wife Anita Goyal, and one nominee of Etihad Airways, Kevin Knight had stepped down.
On April 17, Jet Airways was informed by State Bank of India, on behalf of the consortium of lenders, that they were unable to consider its request for critical interim funding, the airline said in the statement.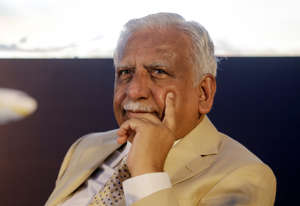 The same day, Jet Airways stopped all flights after its lenders refused to give it any more funds to keep the carrier flying. The carrier, which is also saddled with roughly $1.2 billion in bank debt, was crippled by mounting losses.
The airline has large debt repayments due over December 2018 to March 2019 (Rs 1,700 crore), FY2020 (Rs 2,444.5 crore) and FY2021 (Rs 2,167.9 crore).
More From The Indian Express

The Indian Express