Firms seen passing on GST rate cuts on fridge, washing machine, TV to consumers
Livemint
23-07-2018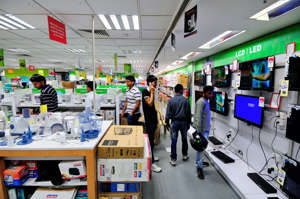 © Getty
Mumbai: Consumer durables manufacturers plan to pass on the lowered rates of goods and services tax (GST) to consumers, reducing prices in categories such as refrigerators, washing machines and mixer grinders.
The taxes for refrigerators, washing machines, small screen TVs, storage water heaters, hair dryers, shavers, mixer grinders, vacuum cleaners and lithium-ion batteries, among others, were lowered to 18% from 28%.
"There will be a 7-8% reduction in prices of refrigerator and washing machines, which will be passed on to the consumers," said Kamal Nandi, business head and executive vice-president, Godrej Appliances, the consumer durables division of Godrej Industries Ltd.
In Pics: Best countries to live in where you'll pay less tax
(Slideshow by Love Money)
According to Nandi, growth of the consumer durable division in the period between July and September 2017 remained flat for washing machines, while the refrigerator category grew marginally by 3% over the same period of previous year due to high GST rates.
"Post the GST rates revision announced yesterday (Saturday), we expect the refrigerator category to grow by more than 15% and the washing machine category to grow by 18-20%," said Nandi.
The consumer durables industry was affected, with the slab of 28% on white goods, said Gunjan Srivastava, managing director and chief executive officer, BSH Household Appliances, adding the market grew by 5-10% for both categories.
Also watch: GST cheer for Indians
(Video provided by India Today)
Now with the being revisited, Srivastava is awaiting the official communications, post which the company will work out the pricing strategy to pass on the benefit to the consumer.
BSH Household Appliances expects to grow at 30-35% in the coming year on the back of new launches and expansion of its operations in the country, said Srivastava.
India's Rs 72,000-crore consumer durables industry grew at 7.5-8.5% in 2017-18 and is expected to grow in double digits during the current financial year, according to the Consumer Electronics and Appliances Manufacturers, the apex all-India body of the consumer electronics, home appliances and mobile industry.