IMD forecasts a normal monsoon in 2018

LiveMint
16-04-2018
(Video by Times of India)
Rainfall is likely to be normal during the June-to-September south-west monsoon season, the government's weather office said on Monday.  Rainfall will be 97% of the 50-year average with a 56% probability that rains will be normal to excess, the India Meteorological Department (IMD) said in its first stage long range forecast. 
Probability that rainfall will be deficient (less than 90% of 50 year average) is 14%, the IMD said. IMD will update its forecast in early June with numbers on month and region-wise distribution of the monsoon. 
A normal south-west monsoon bodes well for the Indian economy and is likely to boost rural demand and alleviate farm distress.
The onset of the monsoon in June kick-starts planting of rain-fed Kharif crops. India receives 70% of its annual rainfall in the four-month period, which in turn irrigates over half of its farm lands lacking assured irrigation.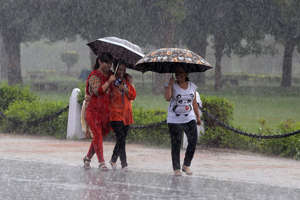 The average rainfall over the past 50 years, or the long-period average (LPA), is 89cm.  IMD's forecast of 97% rainfall comes with a model error of (plus-minus) 5%. Monsoon is considered to be normal when rainfall is between 96% and 104% of the 50-year average. 
If the forecast holds true, 2018 will be third successive year of normal rains. Last year, rainfall was close to normal at 95% of the LPA, while in 2016 rains were recorded at 97% of LPA.
Successive years of drought in 2014 and 2015 led to a fall in crop production and poor agriculture sector growth rate which fell to a low of -0.8% in 2014-15 and -0.1% in 2015-16.
Normal rains in last two years helped a rebound in farm growth rate to 6.8% in 2016-17 and an estimated 3% in 2017-18.