India, Pakistan players share light moment after ICC Champions Trophy final

Hindustan Times
19-06-2017
Sports never had boundaries. And till the day it stays that way, there will be wonderful moments on and off the pitch that brings fans closer, help showcase sportsmanship spirit and allow players play in the spirit of the game.
Pakistan created history on Sunday at The Oval by beating India to lift the ICC Champions Trophy title, but despite a match between the arch-rivals, players did their bit to tone down the hostility that comes along with an India-Pakistan tie.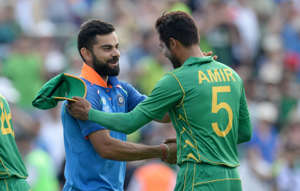 Complete coverage: ICC Champions Trophy
In a clip uploaded by the International Cricket Council (ICC) on their official Twitter handle, India skipper Virat Kohli and Yuvraj Singh could be seen sharing a light moment on the ground with the Pakistan cricketers, and it has gone viral on social media, with a number of fans from both the nations lauding their gesture.
While it can't be heard what they players were actually speaking at the moment, Shoaib Malik could be seen gesturing with his hands, as they all broke into laughter.
#SpiritOfCricket #CT17 pic.twitter.com/jcEWZo3Oe4

— ICC (@ICC) June 19, 2017
India were outclassed in all departments as a maiden ton from Fakhar Zaman led them to 338/4 before Mohammad Amir and Hasan Ali picked up three wickets apiece to bundle India out for a paltry 158. This was the first time India lost to Pakistan in an ICC event since 2009. The victory also helped Pakistan become the fourth nation to complete the ICC treble, having won the World Cup in 1992 and the World T20 in 2009.

READ | Virat Kohli praises Pakistan, says can beat anyone after ICC Champions Trophy win
"We tried our best but Pakistan outplayed us in all departments of the game. It's no shame losing to a better team," Kohli had said in his post-match conference on Sunday. However, there were a few who weren't too pleased with the lack of explicit display of regret from the Indian players, and for them sharing a light-hearted moment with the opposition after a dismal loss.
Best pics from the 2017 ICC Champions Trophy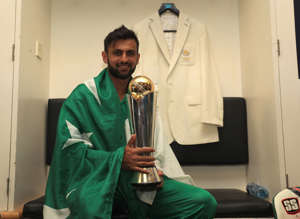 Kohli had tried to play down the hostility even before the final and said they would play Pakistan as any other opponent. He had added that it wouldn't be easy to beat them since they were a fantastic side. "Some teams start very confidently and then they fade off. Some teams might not have the best starts, and they come back amazingly, which Pakistan have done. So everyone is aware of the kind of talent they have in their team, and on their day they can beat any side in the world," Kohli had told reporters on Saturday.
Also Watch: Pak steamroll India to claim CT title
(Video provided by The Times of India)