India vs Afghanistan: Shikhar Dhawan had no idea he created history

India Today
14-06-2018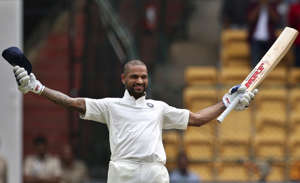 Shikhar Dhawan became only the sixth batsman and the first Indian to score a century before lunch on the first day of a Test match but the left-handed opening batsman had no inkling of this rare feat.
Dhawan blazed to a hundred off 87 balls as India opted to bat against Afghanistan in their debut Test in Bengaluru. Victor Trumper, Charlie Macartney, Don Bradman, Majid Khan and David Warner were the only other batsmen to have accomplished that feat before him.
However, Dhawan does not seem to be too obsessed with records. He had no idea what he had done but conceded getting to the triple-figure mark in a single session was a "great thing."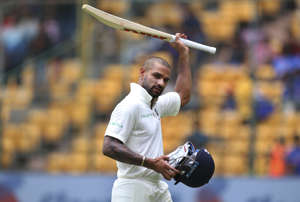 "Scoring a century in a single session is a great thing. I didn't know no Indian batsman had done that.
"I thought I hadn't scored a T20 century, so why not do it here.
"I was in good mindset (before the Test), knew what I had to do out there, and things went my way. I was focusing on my fitness between the IPL and this game.. didn't really bat that much.
"It was disappointing to get out the way I did, but I had been scoring my runs playing the same way, so it's better to get out playing a shot rather than defending," Dhawan said after the end of day's play.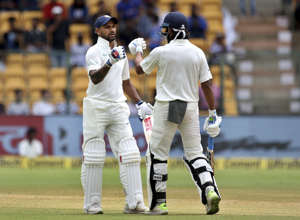 By the end of the first day, India had reachd 347/6. While Dhawan scored 107 off 96 balls, Murali Vijay hit a composed 105 - it was his third successive hundred at home.
KL Rahul, who walked in at No.3 ahead of Cheteshwar Pujara, hit a fluent 54 before perishing. Afghanistan then fought back with five wickets in the final session.
Vijay said Afghanistan showed they enjoyed their first day in Test cricket even though they came under some serious attack from Dhawan.
"There is a bit of bounce, a good sporting wicket, and hopefully we can put the ball in the right place. I personally thought they [Afghanistan] enjoyed their cricket, and finished the day on a high note. We have a lot of work to do," he said.
Photos: Amazing records in international cricket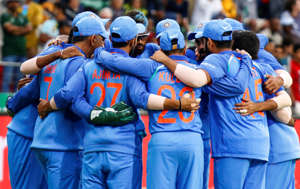 Watch: Shahzad is the comedian of the team — Simmons
(Video by ESPN Cricinfo)
More From India Today

India Today