Kohli gets 10,000 runs in India's wins

Hindustan Times
24-09-2017
MUMBAI: The iconic Eden Gardens plunged into silence when Virat Kohli chopped one onto his wicket to fall eight runs short to what would have been his 31st ODI cricket century - one that would have put him ahead of Ricky Ponting - during the second ODI against Australia.
But little did those at the stadium and millions watching the match on television realise that another record had been set by the Indian run-machine.
Kohli became the third India batsman to score 10,000 runs across formats in matches India have won. Kohli, with his 92, joined Sachin Tendulkar and Rahul Dravid in this elite club.
The skipper's record was established only when India wrapped up the game with a 50-run victory to claim a 2-0 lead.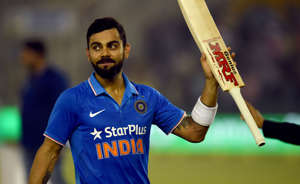 Kohli has contributed 10,059 runs in India's wins across formats. He follows Tendulkar (17,113 runs) and Dravid (10,860 runs) in this exclusive list. Kohli, however, has taken a mere 179 matches and 193 innings to achieve the feat.
In Tests, Kohli has scored 2,472 runs in India's wins, and 6,313 runs in ODIs and 1,274 in T20Is, which gives him 10,059 runs.
Tendulkar scored 5,946 runs in Tests, 11,157 runs in ODIs and 10 runs (in his only T20I) for a grand total of 17,113 runs.
Dravid made 5,131 runs in Tests and 5,729 runs in ODIs, aggregating 10,860 runs.
Virender Sehwag is fourth in the list with 9,372 runs while Sourav Ganguly has 9,102 runs.
Kohli's predecessor, MS Dhoni has scored 8,393 runs across formats in a winning cause.
At 28, Kohli is already level with Ponting (30) in scoring most ODI tons, which puts him at joint second overall with only Tendulkar (49) ahead. He is less than 1,500 runs from completing 10,000 runs in ODI cricket alone - a format where he holds the record of scoring most centuries while chasing.
Kohli has 34 centuries across formats in India's wins, which is 16 less than Tendulkar (50), but 11 more than Dravid (23). Kohli has scored 48 fifties.
He has some catching up to do with Tendulkar (83 fifties) and Dravid (70 fifties).
Kohli averages 67.96 in India's wins across formats, whereas Tendulkar averaged 58.20 and Dravid clocked 56.85. Among the top 10, only Dhoni averages in excess of 60 - 62.63 - in matches India have won.
For any query with respect to this article or any other content requirement, please contact Editor at content.services@htlive.com
HT Digital streams Ltd