Live blog: India vs West Indies, 2nd Test, Day 1

Hindustan Times
12-10-2018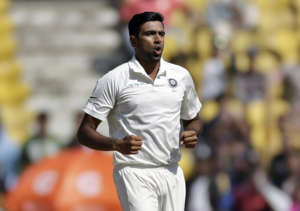 Catch all the live action of the first day of the second Test between India and West Indies at the Rajiv Gandhi International Stadium in Hyderabad through our live blog.
15:13 hrs IST: 50 Partnership
Jason Holder and Roston Chase have now added over 50 for the seventh wicket! Brilliant effort by the two men.
15:09 hrs IST: New ball due soon
India will have new ball available to them soon! The old (ish) ball is not doing too much. Should Kohli take it and give it to his spinners? Keep in mind that Shardul Thakur will not take any part in the first innings of the match.
14:59 hrs IST: Another good partnership
After Dowrich and Chase added 69 runs for the sixth wicket captain Holder is doing the same with Chase for the seventh wicket. The wicket looks a real good one and West Indies will be ruing those early wickets after winning an important toss.
14:49 hrs IST: India lose review
India have lost one of their reviews. Kuldeep hits chase on the pads and it's followed by a huge appeal. Umpire Ian Gould says not out and it's reviewed. The ball pitched outside the leg stump and that's the end of that story.
14:45 hrs IST: India hunt for wickets
After reducing West Indies for 182/6 India will look to close out the innings as possible and wouldn't want the team to drag the innings out! Chase and Holder will obviously want to do exactly the opposite. They are looking comfortable.
14:32 hrs IST: Play resumes after tea
Play resumes after tea on Day 1 of the first Test with West Indies 197/6.
14:31 hrs IST: We are back after the tea break
Holder is a capable batsman, he needs to stick around with Chase and push this total to as many as possible. India would want to finish off the batting.
14:11 hrs IST: Tea on Day 1
It's Tea on Day 1 of the second Test in Hyderabad and west Indies are perilously placed at 197/6. Roston Chase and Jason Holder are at crease.
14:05 hrs IST: 50 for Dowrich
Shane Dowrich brings up his fifty. He has been a lone fighting hand in this rather forgettable first innings. How far can he take Windies as he close in on tea.
13:52 hrs IST: Umesh gets Dowrich!!!
Umesh gets Dowrich for 30 and West Indies lose their sixth wicket. The original decision was not out and reviewed and the decision was overturned. WI 182/6
13:48 hrs IST: Dowrich taking the long handle
Dowrich hits Jadeja for a six over long on. So far he has been the quite partner but he has now opening his shoulders.
13:38 hrs IST: Kohli changing bowlers
Virat Kohli is changing his bowlers regularly to break this sixth wicket partnership between Chase and Dowrich. Jadeja into the attack now!!!
13:24 hrs IST: Good partnership
Chase and Dowrich have added 40 runs for the sixth wicket !! it's a nice little partnership and the two will look to take it forward.
13:12 hrs IST: Update on Shardul Thakur 
Update on Shardul Thakur: He has gone for scans. He will not take the field today. An update on his participation for the rest of the Test will be taken after looking at the scans and after being assessed by the team management.
13:10 hrs IST: 150 for West Indies
West Indies have brought up their 150. The trouble is they have lost five wickets in doing so! Chase is their big hope. Dowrich needs to support him all tye way.
01:02 hrs IST: Chase taking WI ahead
Roston Chase is taking West Indies forward. he is being well supported by Shane Dowrich and both are doing it at a decent clip too. WI 141/5
12:52 hrs IST: West Indies staying aggressive
Despite losing five wickets in next to no time the batsman are staying aggressive. Roston Chase deposits Kuldeep over midwicket with the first six of the match.
12:42 hrs IST: Ambris goes!!
WI lose five Kuldeep yadav has picked up his 100th international wicket!! he teases Ambris into playing a drive and the batsman doesn't get onto the pitch of the ball and is caught at covers for 18. WI 113/5 and in trouble.
12:21 hrs IST: Kuldeep nabs Hetmyer OUT!!!!
Kuldeep has another one, another LBW, Shimron Hetmyer shoulders arms to a googly and the umpire has no hesitation in giving that out. Hetmyer goes for 12. WI 92/4.
12:13 hrs IST: Action resumes after lunch
Umesh will finish his over. Sunil Ambris is the new batsman. Windies have to forge a partnership, this is still a good batting surface
11:32 hrs IST: Lunch on Day 1
Lunch on Day 1 and West Indies are 86/3. Shai Hope is removed by Umesh Yadav for 36 and what seemed like an even session has tilted in favour of India dramatically.
11:25 hrs IST: Hope Survives
Shai Hope survives a close LBW shout. Given not out on the field, it's sent up stairs and the decision stands!!!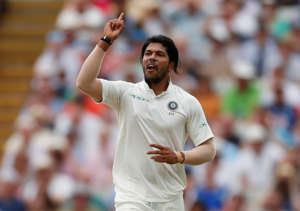 11:17 hrs IST: India racing through overs
India are racing through the overs, already 28 bowled in the first session and with R Jadeja into the attack the rate is likely to go up. India also helped by the fact that Windies batsmen can't read spinners.
11:08 hrs IST: Umesh back into the attack
Umesh Yadav is back into the attack, the ball is reverse-swinging just a tiny bit. Hetmyer is looking to play his shots and the Irish swing could lead to his downfall.
10:55 hrs IST: Kuldeep removes Brathwaite
OUT!!! West Indies are now two down. Kuldeep Yadav has Kraigg Brathwaite plumb in front. He reviews but that's to no avail. Brathwaite goes for 14. WI 52/2
10:53 hrs IST: 50 up for Windies
West indies have brought up their fifty for the loss of just one wicket.
10:50 hrs IST: India smother scoring
After West Indies got off to a flier in the first few overs, India have pegged the scoring well with some crafty spin bowling. Kuldeep and Ashwin both bowling well and at the moment it seems the batsmen can only defend.
10:40 hrs IST: Brathwaite & Hope steady
After the loss of Powell's wicket, Brathwaite and Shai Hope have looked steady and not in any real trouble. Spinners, as expected are bowling the bulk of the overs and look India's best bet for more wickets.
10:30 hrs IST: Drinks break!! 
An hour gone and India are in a decent position. West Indies for their part will be happy too losing just one wicket in the opening hour. WI 40/1.
10:25 hrs IST: Stat attack!
Kieran Powell became Ravichandran Ashwin's 500th First Class wicket when he was caught by Jadeja a short while ago!!
10:16 hrs IST: India get Breakthrough!!
Finally India have their breakthrough!! Powell is caught at cover by Ravindra Jadeja off the bowling of R Ashwin for 22. Windies 32/1
10:06 hrs IST: Aggressive West Indies
West Indies, who were bogged down in the last match, have started aggressively. They are playing their shots and look positive. Pitch may have something to do with it as well. Powell in Particular has been quite free-flowing!!
09:58 hrs IST: Close shave
Powell is given out lbw by Bruce Oxemford but the batsman reviews and the replays show that he got an inside edge. The decision is overturned. West Indies still have 10 wickets in hand!!!
9:49 hrs IST: Blow for India
Shardul Thakur, bowling his second over leaves the field with a problem on his right leg. Tough luck for the debutant. R Ashwin to complete his over.
9:47 hrs IST: Good start by Windies 
It's a very good start by Windies. The batsman haven't looked in any trouble and the pitch looks a real belter, at least against pacers, Spinners will have a big role to play.
09:37 hrs IST: Poor start by Umesh Umesh
Yadav starts poorly for India and is hit for two boundaries by Kraigg Brathwaite, both through the leg side. West Indies skipper already vindicated in batting first.
09:31 hrs IST: Action begins!!!!
Kraigg Brathwaite and Kiran Powell will open the batting for West Indies. Umesh yadav with the brand new cherry for India.
9:25 hrs IST: Time for National anthems
Teams are out on the field and the national Anthems are being sung. Action to begin in less than 5 minutes.
9:17 hrs IST: Losing the toss a bad omen for India?
India have lost six matches out of last seven after losing the Toss. Here is a good chance for India to put that fact right!
09:11 hrs IST: India (Playing XI):
Prithvi Shaw, Lokesh Rahul, Cheteshwar Pujara, Virat Kohli(c), Ajinkya Rahane, Rishabh Pant(w), Ravindra Jadeja, Ravichandran Ashwin, Kuldeep Yadav, Umesh Yadav, Shardul Thakur
09:10 hrs IST: Windies (Playing XI):
Kraigg Brathwaite, Kieran Powell, Shai Hope, Shimron Hetmyer, Sunil Ambris, Roston Chase, Shane Dowrich(w), Jason Holder(c), Devendra Bishoo, Jomel Warrican, Shannon Gabriel
09:00 hrs IST: Windies bat first
Jason Holder has won the toss for West Indies and he has chosen to bat first, that means India will bowl.
8:49 hrs IST: Reinforced Windies
Kemar Roach and Jason Holder are back for West Indies. They were sorely missed by the caribbean side in the first Test. High expectations from the pacemen and the captain!!
8:42 hrs IST: Shardul Thakur debuts
Shardul Thakur will be making his Test debut for India in this Test!! Big moment for him.
08:32 hrs IST: Toss at 9:00
The toss for the second Test takes place in under half an hour. What will the teams chose to do first? Interesting choice awaits!!
08:13 hrs IST: Hello and welcome
Hello and welcome to Hindustan Times' live blog for Day 1 of the second test between India and West Indies. India will be looking for a clean sweep after winning the first test in Rajkot.
Photos: Indian cricketers and their world records in Test cricket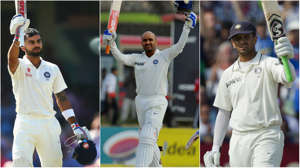 Watch: 'Pant can slot in as a batsman in India side'
Download the Microsoft News app for your Android or iPhone device and get news & live updates on the go. Follow our Cricket & Sports section in English and Hindi.
More From Hindustan Times

Hindustan Times