MS Dhoni: Finisher's unfinished business

The Indian Express
22-04-2018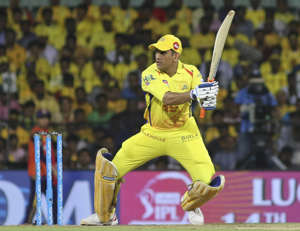 MS Dhoni is known as one of the best finishers of the game but here are a few games where Dhoni hasn't seen his team home.
Roughed up by Rabada
India v South Africa, 1st ODI, Oct 2015: 31 off 30 balls with 1 four in Kanpur when India lost by 5 runs chasing 304
Match scenario when Dhoni walked in: India were 214/3 in 40 overs needing 90 runs off 60 balls
Rohit Sharma's century had put India well on track to chase down the total when Dhoni walked out in a scenario perfectly designed for him. He played second fiddle to Rohit for the next 6 overs as they put on 55 runs. The opener scored 42 off 21 balls in the stand while Dhoni got 9 off 16. When Rohit was out for 150, India needed 35 off 23 and were still favourites. Suresh Raina fell in the same Imran Tahir over to leave 31 off the last 3 overs. Dhoni started off Rabada's penultimate over with 3 twos, pushing the ball into the outfield and scampering back and forth, and wasn't yet keen on going for the jugular. With 18 required off 9, Dhoni hit his only boundary with a scoop shot off Dale Steyn but managed only 3 runs off the next 2. That left a young Rabada to defend 11 off the last over or in "Dhoni time". The pacer kept banging the ball short of length and getting it to rise to Dhoni's ribs. He somehow got a double and a single with two cramped heaves to the on-side. With 7 needed of 3, he jumped out of his crease but his heave-ho only resulted in a top edge that was snaffled by the bowler.
Held up in Harare
Zimbabwe v India, 1st T20, June 2016: 19 not out of 14 balls with 1 four in Harare when India lost by 2 runs chasing 171
Match scenario when Dhoni walked in: India were 90/4 in 12.2 overs needing 81 off 46 balls
It was a series where Dhoni was in-charge of a young second-string Indian outfit and was keen on walking out lower down the order than usual. He struck his only boundary off his 4th delivery, a glide between backward point and short third-man before being content with nurdling the ball around. He attempted a couple of powerful pull shots but didn't connect too well. He didn't get any help from the other end with the likes of Manish Pandey, Axar Patel and Rishi Dhawan looking for the glory shots and messing up the plot. That left Dhoni to hit 8 runs off the final over bowled by the relatively unknown Neville Madziva. The first ball had width which Dhoni smashed for a single to long-off. Then came a yorker which he dug out for a single. Dhawan then lost the plot, leaving Dhoni with a boundary to get off the last ball. Madziva delivered a wide full delivery, which Dhoni was expecting, but all the Indian captain managed was a weak shot straight to deep point for a single.
The Antigua Crawl
West Indies v India, 4th ODI, July 2017: 54 off 114 balls with 1 four in Antigua when India lost by 11 runs chasing 190 in July 2017
Match scenario when Dhoni walked in: India were 47/3 in 12.4 overs needing 143 off 222 balls
It turned out to be Dhoni's most un-Dhoni like outing ever in international cricket where he scored the slowest half-century by an Indian batsman in 16 years. It came against an inexperienced West Indian bowling attack on a stodgy wicket where big-hitting wasn't easy. But it was a frightening illustration of just how much his power-game had slipped. He got tied by Ashley Nurse's off-spin and Kesrick Williams' cutters and ended up facing 70 dot balls. Amazingly, the flick shot was his most productive. His solitary boundary came off a loose delivery—the 102nd of his innings—down the leg-side from off-spinner Roston Chase. He was out caught off Williams, who kept Dhoni to just 13 runs in 4 overs, on the long-on boundary with the first big shot that he attempted with India needing 14 off 7 balls.
Photos: Biggest flops in IPL history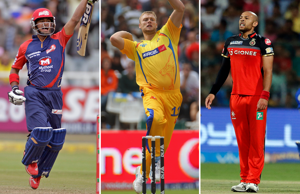 Watch: 'Once AB goes aerial, he can't be stopped'
(Video by ESPN Cricinfo)