Sensex, Nifty hit new record highs but fail to hold gains; key highlights

The Financial Express
21-05-2019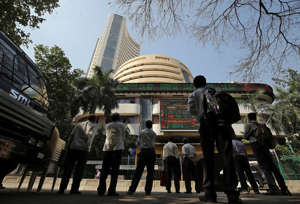 The Sensex and Nifty failed to hold on to gains on Tuesday afternoon, after scaling to new records earlier in the day. The Sensex ended the session 382.87 points lower at 38,969.80, while the Nifty closed 119.15 points down at 11,709.10. Earlier, the 30-share index had scaled a new record of 39,571.73, bettering its previous high on April 18. In case of Nifty, the 50-share index hit a new peak at 11,883.55, pipping its previous record of 11,857. 
Many bluechip private sector lenders hit a new record on Tuesday including Axis Bank (Rs 791) , HDFC Bank  (Rs 2,449), Kotak Mahindra Bank (Rs 1,515) hit lifetime highs in intra-day trade today. Notably, Tata Motors (6.60%), Zee Entertainment (4.33%), BPCL (4.2%), Adani Ports (3.39%) and IndusInd Bank (3.38%) were among the biggest Nifty losers. On the other hand, Reliance Industries, Hindustan Unilever and Bajaj Finance ended in the green, rising up to 1.08 per cent. The broader BSE midcap and smallcap indices ended in the negative in line with benchmarks, falling up to 0.84 per cent. Traders believe that though a profit-booking emerged at higher levels but election rally may continue if the election results come as per exit polls prediction.
Today's decline comes after the share market recorded their best ever day in 10 years on Monday. The Sensex and Nifty posted their biggest intra-day gains in 10 years on Monday, after exit polls indicated an easy win for PM Modi. The Sensex ended 1,421.90 points higher at 39,352.67, while the Nifty closed 421.10 points higher at 11,828.25, both at their respective closing highs. Taking stock of the stellar rally, Jatin Khemani, CEO of Stalwart Advisors said that the key for investors is to stay the course. "There are just a few days which really contribute to overall gains for investors and missing them implies the return is far lesser. And nobody really knows which days will those be which is why one should stay invested over long-term. Yesterday was one such day," Jatin Khemani said in a note to Financial Express Online.
According to the expert, if the investors are confident about their portfolio companies' business model, earnings growth and governance, there is no reason to do anything. However, in case that's not the case, the ongoing rally could be used to sell some duds and rotate funds to better opportunities. "There are better opportunities available in small- and mid-cap space versus large caps where valuations are still high. In terms of sectors, capital goods, food processing, and corporate banks are at a cyclical low in terms of the business cycle, and also look reasonably valued which makes them interesting contrarian bets from a 3-5 years perspective," he added.