#MeToo hits Tata Motors, Mumbai executive sent on leave
Livemint
12-10-2018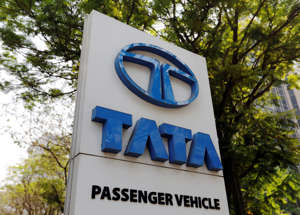 Mumbai: Tata Motors Ltd has sent its chief of corporate communications on leave following allegations of inappropriate behaviour with female employees, as the global #MeToo movement hit the Indian corporate world after first shaking up Bollywood and some media houses.
The Indian owner of Jaguar Land Rover, in a Twitter post, said it has asked Suresh Rangarajan "to proceed on leave in order to allow for an objective enquiry to be completed as swiftly as possible".
In Pics: 50 largest employers in the world
On Thursday, an Indian journalist posted screenshots on her Twitter account of allegations against the Tata executive, leading to the move by the automaker. Prominent men in India are facing accusations of harassment, with the microblogging site being used to allege instances of wrongdoing by men in entertainment, politics and media.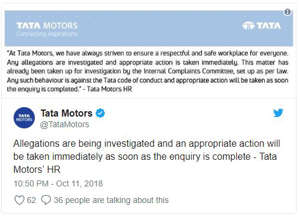 Tata Motors has always "striven to ensure a respectful and safe workplace for everyone," the Mumbai-based company's human resources department said in a Twitter post. "Any allegations are investigated and appropriate action is taken immediately." The matter is being probed by an internal panel set up as per law, according to the post.
Also watch: Treat women with dignity, says Rahul Gandhi
(Video provided by The Times of India)
Download the Microsoft News app for your Android or iPhone device and get news & live updates on the go. Follow our Finance section in English and Hindi.