Swapna settles for silver in heptathlon

Hindustan Times
24-04-2019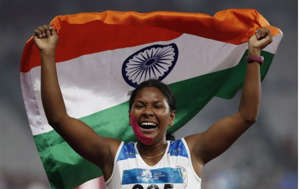 NEW DELHI, April 24 -- At the start of the season, Asian Games heptathlon champion Swapna Barman was unsure whether she would be able to qualify for the Asian Athletics Championships because of a back niggle. She made a modest start to the season by scoring 5901 points in March to qualify for the continental event in Doha.
On Tuesday, the versatile athlete from West Bengal gave further proof of standing by scoring 5993 points to win silver on the penultimate day of the continental meet.
At the end of the day, India won another silver, in the 4x400m mixed relay team, before the day was out. The team comprising Mohammed Anas, MR Poovamma, Vk Mismaya and Rajiv Arokia clocked 3:16:47.
With that India's medal tally stood at 12, including two gold.
Trailing at the third spot after four events on the first day- 100m hurdles, high jump, shot put and 200m - she covered lost ground in the final three events - long jump, javelin and 800m - on Tuesday to score her season's best. Her personal best is 6029 points, scored on her way to winning the 2018 Jakarta Asian Games gold.
After the event, Swapna said she could have done better but a poor effort in javelin hampered her progress. "I couldn't do proper warm up and ended up with a not so encouraging performance," she said. On Tuesday, her best effort was 46.83m.
Woman distance runner Parul Chaudhary, winner of the 5000m bronze on the opening day, was expected to have a podium finish in 3000m steeplechase, but finished fifth at 10:03.43 secs. It improved on her previous best of 10:07.26 secs.
India's 4x100m women's relay team also missed a medal. The team comprising Archana Suseendran, Veeramani Revathi, Kunnath Ranga and Dutee Chand clocked 43.81 seconds but still managed only fourth, behind China, Kazakhstan and Bahrain.
Dutee Chand reached the 200m final. She clocked 23.33 secs, the third fastest time in the field, to win her semi-final heat. Bahrain's Salwa Naser was the fastest at 22.84 secs, while Olga Safranova of Kazakhstan, the 100m champion, clocked 22.98 secs. Salwa, who won the 400m, also is aiming for a double.
Asian Games 1500m champion, Jinson Johnson, who hobbled out of the 800m due to a calf injury, didn't participate in the 1500m heats.
For any query with respect to this article or any other content requirement, please contact Editor at contentservices@htlive.com
HT Digital streams Ltd