The questions India need to answer before the World Cup

ESPNcricinfo
11-07-2018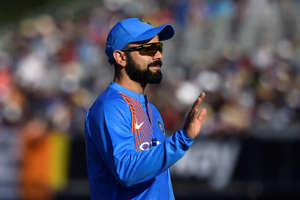 Virat Kohli said that the main issue India want to address before next year's World Cup is identifying which batsmen will comprise the middle order. KL Rahul has made a compelling case for himself with his success on the UK tour so far, and Kohli has already stated that Rahul offers a lot of flexibility to the batting order. But what is the ideal position for Rahul - at 3, like in the T20Is on this tour, or at 4?
With India inclined to play two wristspinners on what are likely to be relatively flat surfaces around England, which will also host the World Cup, what would be the best bowling combination? And if Suresh Raina plays, should he bat at 5 and push MS Dhoni to 6-7 while keeping Hardik Pandya's role fluid? These are some of the questions India need to answer, and the ODI series against England will be a good starting point.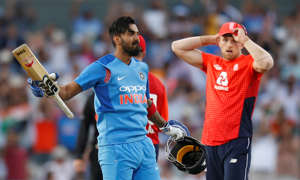 Where does KL Rahul bat?
Having tried out Rahul successfully at No. 3 in the T20I series, there is no question anymore about whether Rahul should be part of the ODI set-up or not.
Rahul has admitted that he prefers batting at the top. With him at one-down, even if there is an early wicket, India will have someone who can explode in the Powerplay. With his ability to accelerate, Rahul is capable of maintaining an aggressive tempo in the middle overs too. With Kohli and Dhoni manning the middle order, Rahul, along with the openers, can play with a free mindset.
There is clarity about one thing: Rahul will be part of the Indian batting line-up based on the training on Wednesday. Whether he will follow the openers is not yet clear, as Rahul batted in the nets after Kohli at 3.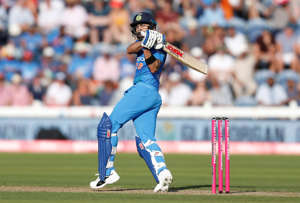 Should Kohli play the role Yuvraj performed in the 2011 World Cup?
Yuvraj Singh was the most valuable player of the 2011 World Cup. Batting between Nos. 4-6, Yuvraj often arrived at the crease in the second half of the innings and, with his power-hitting, provided robust finishes. Yuvraj hit 362 runs at an average of 90.50 with four fifties and one century while batting in phases of pressure.
Increasingly in ODI cricket, bowlers have smartened up and made use of the fields to play defensively. Keeping that in mind, and India's penchant for a chase, the pressure is likely to be high in the middle phase, and that's where you need your best batsmen.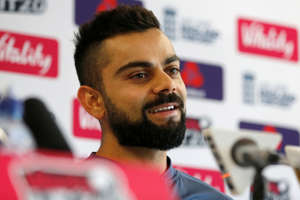 The question of who should be India's No.4 has been a pressing one, and since the 2015 World Cup, there have been 11 men who batted at that spot - the most of any team.
Kohli has both the versatility and the experience to handle the pressure in case the top order flounders. Numbers support that fact: batting at 4, Kohli has 1744 runs with seven centuries in 37 innings at an average of 58.13 and a strike-rate of 90.40. Despite his astounding achievements at No.3, Kohli has already shown an openness to play in the middle order during the T20I leg of the series. This way, not only does he become an alloy who can meld the top and lower order together, but he can also help players like Rahul become better all-round batsmen in the future.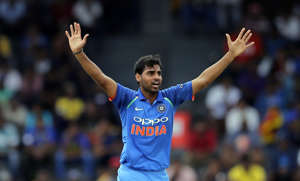 What is India's best bowling combination?
India are the only team with the luxury of having two good wristspinners. This England series should allow India to figure out whether they go in with the combination of two specialist fast bowlers, Kuldeep Yadav, Yuzvendra Chahal and Hardik Pandya as the third fast bowler. Ideally, that is India's best bowling combination.
However, in case they choose to drop one of Kuldeep and Chahal, then who are India's best three fast bowlers? Bhuvneshwar Kumar and Jasprit Bumrah are guaranteed to play. The third fast bowler could be a tussle between Umesh Yadav, and possibly Siddarth Kaul. Swing is no longer a big element in England, unless the conditions are overcast. Hence a fast bowler needs to have defensive variations, and Umesh would be the front-runner. Kaul has good changes of pace and can fire in yorkers accurately and consistently in the IPL, but has not been tested at the international level.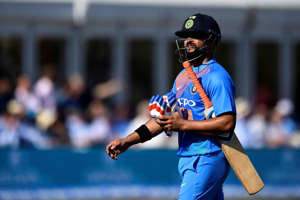 Is Raina good at No. 7?
In case Rahul bats at 3, the top six (with Hardik at No. 6) pick themselves. The question then remains of where Dhoni should bat. If India play Raina, should he come before Dhoni or should he bat at 6 or 7? Importantly, India would want this player to be their sixth bowling option. In that case the three contenders are Raina, Axar Patel and Kedar Jadhav who is currently injured.
In Jadhav's absence, Raina could edge out Axar, at least for the England series. Raina's numbers in the lower order are pretty impressive: batting between 5-7 Raina has 4347 runs at an average of 35.05 and a strike rate of 94.00 with four hundreds and 24 fifties. Can he then combine with Pandya to do the finisher's role? With his ability to bowl part-time spin, as well being a left-hand batsman, India are likely to test Raina in the middle order ahead of the likes of Axar or Dinesh Karthik. Of course, once Jadhav is back and fit, he becomes more of an automatic choice to bat in the lower order.
Photos: World records held by MS Dhoni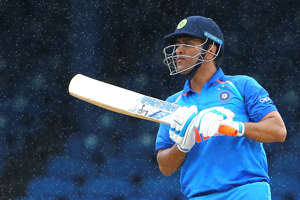 Watch: England, India take different ways to the top