When Virat Kohli thought he was finished after 2009 Champions Trophy match vs Pakistan

India Today
16-06-2019
India captain Virat Kohli is the best batsman in the world right now across formats and has held that tag for a couple of years now. But there was a time when he the great Virat Kohli felt like his career was over after he flopped in a high-pressure match against Pakistan 10 years ago.
India and Pakistan encounters make or break careers of cricketers and Kohli thought his days of playing for the national team were over when he scored just 16 runs in India's 54-run loss in the group match at Centurion.
Pakistan had posted 302 for 9 on the board with Shoaib Malik scoring 128 while Mohammad Yousuf made 87. India in reply were bowled out for 248 with Mohammad Amir, Naved-ul-Hasan, Saeed Ajmal and Shahid Afridi running through the batting order. Rahul Dravid was the highest scorer for India with 76 runs while Gautam Gambhir made 57 but the rest all flopped.
Kohli, who was flown in as a replacement for the injured Yuvraj Singh in that tournament, recalled how he played a rash shot to get out couldn't the sleep night after the game.
"Tense was Champions Trophy 2009 where Yuvi fractured a finger and I was flown in and in two days time I was playing against Pakistan at Centurion. I hadn't experienced anything like that before.
"And I played a very bad shot. I couldn't sleep till 6 in the morning, I kept looking at the ceiling thinking that's it. I am finished. That was the most tensed moment I have experienced," Kohli said on the eve of the India vs Pakistan World Cup 2019 match in Manchester on Saturday.
The Indian captain was also asked about the most funny incident he has witnessed in an India-Pakistan game in reply to which he narrated a story from the 2011 World Cup.
"There have been many funny moments over the years. I can't explain the incident properly, it happened during the World Cup 2011. In Mohali there was a little incident which I saw from the oppositions side which I elaborate here. The incident involved Shahid Afridi and Wahab Riaz. It was very funny in that pressure situation," Kohli said.
In pics: Biggest India-Pakistan cricket controversies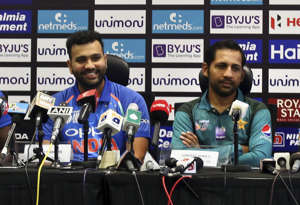 Also watch: CLASSIC! Sachin Tendulkar - 98 off 75 vs Pakistan (2003 WC)
More From India Today

India Today