Death toll in Kerala goes up to 26, 2 more gates of Idukki dam opened

Hindustan Times
10-08-2018
The death toll in Kerala due to heavy rains and landslides rose to 26 as authorities were forced to open shutters of the 22 dams in the state. Two more of the five sluice gates of the Idukki reservoir were opened on Friday morning to release excess water amid non-stop rain. Gushing water from the dam inundated many areas downstream and human casualty was restricted to an extent due to well planning, a senior revenue official said.
Track live weather updates | Kerala weather
© Provided by Hindustan Times

The maximum water level in the Idukki reservoir is 2403 feet and the currently level has crossed 2401 feet. More worryingly, there has been no let up in rain in catchment areas and water is flowing to the reservoir with more speed than the quantity of water being released, said an official said.
© Provided by Hindustan Times

On Thursday, authorities had opened one sluice gate for the first time in 26 years. Now, three of the five sluice gates have been opened which are releasing 1.5 lakh litre per second. 

"We are monitoring the situation closely," said state power minister M M Mani, hailing from Idukki.
The dam has not filled to such levels in the past 26 years. Idukki reservoir has three dams – the main dam on Periyar that holds maximum water has no shutters as it is situated between two imposing granite hills locally known as Kuravan and Kurathi mala.
Also watch on MSN: Bhoothathankettu Dam in full flow after heavy downpour
(Video provided by Times of India)
In pics: Incredible photos of sinkholes around the world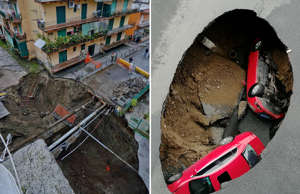 More From Hindustan Times

Hindustan Times