Afghanistan's day despite Dhawan, Vijay tons

Wisden India
14-06-2018
It didn't look like Afghanistan were going to have a pleasant initiation for a large part of their opening day as a Test-playing nation. But by stumps, they would have felt more than ready to take on whatever challenges lay ahead.
There were times when those on the outside couldn't help but empathise as India's batsmen smashed their way to 248 for 1 by tea at the M Chinnaswamy Stadium on Thursday (June 14). Those very same faces in the crowd looked awe-struck as India were reduced to 347 for 6 at the end of an extended, rain-affected day. The final session saw 99 runs being scored from 32 overs for the loss of five wickets.
The prime reason for India's massive score was Shikhar Dhawan, who belted 107 from 96 balls with 19 fours and three hits over the fence en route to becoming the first Indian to score a century before lunch on the opening day of a Test match. M Vijay wasn't nearly as dominating but his easy-on-the-eyes innings was just as devastating in effect as he compiled a fine 153-ball 105.
Hardik Pandya (10) and R Ashwin (7), both unconquered, saw India to stumps with a healthy score on board and the promise of at least a few more to come. Besides the fact that India still have plenty of batting, Afghanistan's bowling hasn't yet shown a great deal of sting. Yamin Ahmadzai (2 for 32) was a pick of the bowlers despite nursing a minor knee niggle which saw him sit out most of the opening session.
Lest we forget, Rashid Khan, the limited-overs phenom, went for 120 runs from his 26 overs with only the wicket of Ajinkya Rahane to be proud of. Mujeeb Ur Rahman, the newest rage to come out of Afghanistan, conceded 69 runs in 14 for the wicket of Cheteshwar Pujara. Rashid and Mujeeb did look threatening as the day grew late, but even then, they weren't exactly unplayable. And those were the two spinners Asghar Stanikzai, the Afghanistan skipper, based his statement ("our spinners are better than Indian spinners") on.
Phil Simmons, the Afghanistan coach with a decent number of Test matches as a player for West Indies under his belt, did say that experience would make all the difference. Surely enough it did, not long after Rahane won the toss and elected to bat.
Afghanistan's famed spin duo unleashed an array of tricks but without consistency, and with time not being a constraint unlike in T20s, batsmen had the time to play out the good balls before dispatching those that were even faintly off the mark. Dhawan, being the murderer of bad bowling that he is, didn't need a second invitation to this party.
From the time he struck a boundary, a slap through point, off Wafadar in the second over, Dhawan didn't come off the saddle. His knock was an exhibition as much as it was a downer for the opponents, and the sound his meaty bat made on meeting the ball hampered any hopes Afghanistan had of an early scalp.
There was the one occasion when Dhawan failed to connect clean and that resulted in the faintest of outside edges off Wafadar when on 24. Mohammad Shahzad, at second slip, was certain there was a nick, but Stanikzai took Mohammad Nabi's word for it and opted out of the possible review after Paul Reiffel turned down the appeal.
Thereafter, it was one-way traffic with Dhawan feasting ruthlessly on a demoralised attack, oftentimes picking up three or more boundaries each over. He took a particular liking to Rashid, his teammate at Sunrisers Hyderabad, belting him for 51 runs in seven overs.
Before long, Dhawan reached three figures off a mere 87 balls, while Vijay waited patiently on 21. At lunch, India had raced to 158 without loss from 27 overs.
Afghanistan held a brief meeting on the field before coming off for lunch, and whatever was said seemed to make an impact as Ahmadzai, who now has the honour of bowling the first ball in Test cricket for Afghanistan, got Dhawan to nick a full and wide ball in the 29th over. Dhawan's edge flew to Rahmat Shah at second slip but the fielder couldn't hold on. As luck would have it, he relayed the ball to Nabi at first slip, and Afghanistan had their first ever wicket in Test cricket.
Afghanistan's players were over the moon at bringing an end to the 168-run alliance, but even they knew that the day was nowhere near done.
Once KL Rahul (54) took guard, Vijay seamlessly slipped into the role of dictator and raced towards his 12th Test century. Two short spells of rain, one of which forced an early tea break, delayed Vijay's moment but when play did resume, he played an uppish cut to reach the three-figure mark.
Rahul and Vijay marked the occasion with a well-synchronised dab, only their partnership didn't last much longer. Vijay padded up to a sharp inswinger from Wafadar and was adjudged leg before wicket by Chris Gaffaney. Vijay reviewed the decision but had to walk back once replays showed that the ball was going to clip the top of off-stump.
Yet another 100-plus run stand (112 to be exact) had come to an end but there were to be no big alliances waiting. In the very next over, Rahul slashed at a short and wide delivery from Ahmadzai and dragged it onto the stumps.
There was more drama still to come. Rashid successfully reviewed a leg before decision to get rid of Rahane (10), and Mujeeb had Pujara (35) caught at leg-gully. If this wasn't humiliating enough, a mindless runout – partly Hardik Pandya's fault – prematurely ended Dinesh Karthik's first innings on returning to Test cricket after eight years.
Pandya and Ashwin survived a tricky phase with the lights fading, but Afghanistan left the park the more satisfied of the teams after an emotional day out in the middle.
Photos: Amazing records in international cricket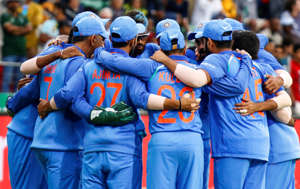 Watch: Shahzad is the comedian of the team — Simmons