For two days, I did not sleep - Saina Nehwal on her father being denied entry to Games Village

Hindustan Times
16-04-2018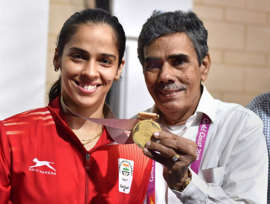 © Provided by Hindustan Times
Saina Nehwal endured a rollercoaster journey in the 2018 Commonwealth Games at Gold Coast. From fitness issues to her father being denied entry into the Games Village, Saina had to endure plenty of distressing moments. However, all that stress went out of the window when she became the first Indian badminton player to win two Commonwealth Games gold medals.
Following her victory, Saina said before the start of the 2018 Commonwealth Games, she did not sleep for two nights after her father, Harvir Singh Nehwal, was denied entry in the Games Village. Speaking about the incident after she had defeated PV Sindhu in a tough encounter to add to her team gold, Saina said she has no regrets about "standing up for her father" in the Games Village accommodation controversy where she threatened to pull out of the event.
"I don't mind fighting for my dad anywhere. People have written that I put my dad first but it's not the case otherwise I wouldn't have won medals for my country," an emotional Saina said. "Why tell me that everything is done when it's not done? Had I known I would have booked a hotel for him. He was given personal coach accreditation and after a long journey, I was handling this situation."
Saina said the issue was a major distraction for her and she was quite stressed because of it.
Complete coverage: Commonwealth Games
"For two days, I was worried and didn't even sleep. I can't sit there for three-four hours and be patient, I am not a government official. I am a player, I have matches. Sindhu was not playing team event, I had to perform there. Sometimes things take time but I think had I not been this aggressive it wouldn't have happened," she said.
"He was sitting outside the village for two days. He couldn't even come in to the dining hall. What was the point of his coming here. It was a stressful situation but you have to fight it out. I needed rest. Roger Federer says he sleeps for 10-12 hours, I was not even sleeping for half an hour because my father was sitting outside. How could I sleep?" she said.
Saina said the criticism that came her way because of the incident was uncalled for. She had been accused of blaming the Indian officialdom with her pullout threat.
"The problem was I fought, people didn't like I fought. Why wouldn't I fight for my parents?" she asked.
Saina also took a dig at her critics for writing her off after every bad result.
"There are 100 things that go in India. I wouldn't say it happens in China but in India if I lose, people start with 'Oh Saina lost, Saina is becoming old, Saina should retire'. I think there would be 100 things written about me but for her (P V Sindhu) it is still ok because she is still coming up," Saina said.
Photos: Hilarious faces from the Commonwealth Games