Gareth Southgate calls on England to transfer energy to world stage

The Guardian
18-06-2018
It was France 98 on the last occasion England faced Tunisia in a World Cup. That one kicked off in the middle of the day and a 2-0 win, as always with England, sent the giddy-meter spinning. The lingering memory, however, is still the line with which Des Lynam opened the television coverage. "Good afternoon," he greeted the viewers. "Shouldn't you be at work?"

This year, it will be 9pm local time when the two sides renew acquaintances in the Volgograd Arena. Nothing changes, though, when it comes to the raised expectations surrounding England on the eve of another World Cup adventure. Or, indeed, the diminished reputation of the nation's footballers in the wake of more disappointments than they would probably care to remember.
Related: For all the latest analysis and insight, visit our World Cup hub HERE
One Russian journalist was impudent enough to ask Harry Kane in the pre-match news conference whether it was true, as he had read on social media, that the welcome gift he received in Repino earlier in the week – a golden teapot – was the first trophy he had picked up in his career. Kane took that one on the chin and pointed out that maybe he could lift the "big gold one" on 15 July.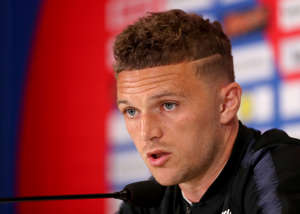 Except, of course, we have been here before, falling into the trap. Roy Hodgson's team went into the last World Cup on the back of an unbeaten qualifying programme and with everyone noting how immaculately prepared they seemed to be behind the scenes.
The training ground just beneath Sugarloaf Mountain in Rio de Janeiro was pristine. Scientists had designed specially tailored recovery drinks for each player, depending on their sweat output. Turf specialists had been brought in to make the sure the grass was the same length, to the millimetre, of the pitch of their opening game. All that was left was for England to show they could take care of a football and the standing joke, four years on, is the team were on their way home before they had even finished their anti-malaria tablets. Seven days, to be precise.
England's qualifying results for Euro 2016 were even more impressive, with an immaculate record of 10 successive wins. Then it came to the now-infamous game against Iceland – a nation ranked 133rd in the world, between Burundi and Turkmenistan, four years earlier – and the din from thousands of England supporters chanting "you're not fit to wear the shirt" at their own players.
If all this sounds slightly downbeat it should also be pointed out that speaking to Southgate here in Volgograd on Sunday was to be in the company of a man who seems entirely comfortable in his own skin. Southgate talked of his pride to be leading out his national team. "My family are incredibly patriotic," he said. "My grandad was a marine. I've always been brought up with England being a core part of what we stood for and my life."

But there wasn't even a flicker of tension and when it came to the inevitable questions about how the current side would do better than the last one – and the one before that, and so on – he made it clear that he and his players were "looking at things a different way". What good would it do, he seemed to be saying, to keep looking back all the time? "You can learn from the past. But this team shouldn't be burdened with it. They're a fresh group. Most of them have very few caps. The future is all ahead of them, so they have to be thinking about what's possible. The players, and opportunities, of the past have gone now."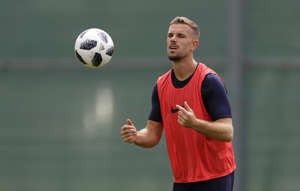 That doesn't change the fact that, psychologically, England have choked on the big stage too many times. "The first thing is to have a really clear understanding of how we want to play," Southgate said. "When you are in tense moments of games it's important everyone knows their individual roles and the team is still connected on the pitch. Stick to your principles, whatever the state of the game. You have to stick to your beliefs. Look at Spain versus Portugal: whatever the stage of the game, they stuck to what they did well. You have to have the character to do that."
For England, that will mean Kieran Trippier and Ashley Young showing the confidence to advance from their wing-back positions and provide the team's width. The three central defenders – Kyle Walker, John Stones and Harry Maguire – will be encouraged to play out from the back. Jordan Henderson will have to curtail his forward runs, as the holding midfielder, but Southgate wants Dele Alli and Jesse Lingard to make it their business to get into the Tunisia penalty area in support of Harry Kane and Raheem Sterling. It is a quick, exciting and attack-minded operation.
More than anything, Southgate said he wanted his players to transfer the energetic performances he had seen in training on to a bigger platform. He said this more than once and it left the impression he was encouraged, to say the least, by what he had seen in England's closed sessions. "They have a hunger to press, win the ball back and play brave football. They want to be a bold and attacking team. That's how I wanted them to play."
In which case his players should not expect Southgate to try anything special with his team talk. Indeed, he is not planning to say too much just before his team, in a 3-3-2-2 formation, run out. His players, he said, were pumped up enough – and impatient to get going bearing in mind six of the eight groups are under way.
Some managers would still feel it necessary to deliver a killer speech. Not Southgate. "When I was a player, there were moments before games when I thought: 'All the manager can do now is f**k it up for me [with his team talk] and put me off my game.' I was ready and I didn't want to hear too much more. And now, I think, my boys are ready."
Related: England's greatest World Cup moments (Read Sport)
Watch: Mexico stun defending Champs; Switzerland hold Brazil