In One Kind Of First, Rohit Sharma's Quick Selfie Interview With Virat Kohli

NDTV
14-02-2018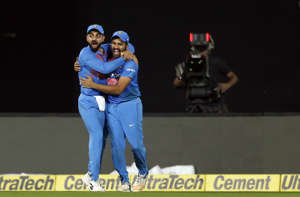 Rohit Sharma's presence in the middle against South Africa in the fifth ODI was critical for India to reach a challenging total, especially with him being involved in two run-outs, and the Mumbai batsman rose to the occasion and held the innings together. In the process, Rohit brought up his 17th century and helped India reach 274 for 7. India captain Virat Kohli was one of the victims of a terrible mix up between him and Rohit that led to his dismissal but both looked in good spirits at the end of the match as the visitors clinched a historic series win in South Africa after 25 years.
Complete coverage: India's tour of South Africa
The Board of Control for Cricket in India (BCCI) tweeted a picture of them together and uploaded the link to a video where they are seen engrossed in a conversation with a caption, " In a kind of firsts, Man of the moment - @ImRo45 did a quick selfie interview for http://BCCI.TV with captain @imVkohli post India's first series win in South Africa. Listen in to what the duo had to say about the historical moment."
Photos: Things which went right for the visitors
(Slideshow provided by Sportskeeda)
Here are the excerpts of the conversation: 
Rohit Sharma: So guys it has been a great victory and a great series win after 25 years. To come out here in South Africa and win the series, obviously a great feeling. Let's see what the captain has to say about it. Captain how does it feel after winning (the series) after 25 years?
Virat Kohli: It means amazing. Rohit's contribution was outstanding today. Wonderful feeling to create some history, winning after 25 years and everyone is really proud in the change room. It has been a collective effort and something we wanted to do badly as a team, so brilliant. Amazing.
Watch: India create history in Port Elizabeth
(Video provided by ESPN Cricinfo)
Rohit Sharma: It's never easy in South Africa and we all know that but I thought throughout the series we handled the pressure really well. So anything in particular you (Virat Kohli) felt throughout the series that we have done well?
Virat Kohli: I think in every game someone has put their hand up and performed for the team and the two young spinners and the way they have bowled and the way Jasprit Bumrah and Bhuvneshwar Kumar have shown experience and the way Hardik Pandya has bowled in the middle as well and batsman as well, given opportunities everyone stepped in every different game. So, I think that's been the hallmark of this series. Being 4-1 up in South Africa has never been easy. We have played here twice before and we know how tough it can be. So this team has come a long way, you know, it's been a collective effort of the whole team and the management and we are really proud of it.
Rohit Sharma: Cheers. Thanks Virat. 25 years guys. 25 years.