Kings XI struggle with the losing habit

Sportskeeda
17-05-2018
​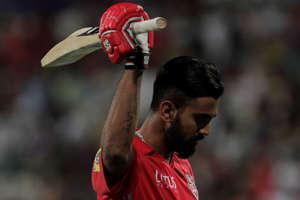 © AP Photo
Editor's note: The opinions in this article are the author's, as published by our content partner, and do not represent the views of MSN or Microsoft.
The IPL has no award to recognise the 'Most Exasperating Team of the Tournament', no experts to rank teams in the 'Order in Which They Infuriate Their Fans' but most observers will agree that Kings XI Punjab are serious contenders for both these titles. 
For over the last few weeks, Kings XI have slid from table toppers to playoff contenders to a team that is now the butt of jokes and memes, and whose playoff hopes hang on a slender thread. They have contrived to collapse in a chase of 133 against Sunrisers Hyderabad; failed to gun down 159 against Rajasthan Royals despite KL Rahul's unbeaten 95 (with seven others failing to reach double-figures); withered under a batting onslaught from Kolkata Knight Riders (being hammered for 245); put on a most amateur batting display against Royal Challengers Bangalore (shriveling for 88 all out in 15.1 overs); and, most recently, gone from needing 42 off 24 balls with nine wickets in hand… to lose to Mumbai Indians in a last-ball finish.
The storyline has been mostly predictable: draw on the heady promise of the early games, invest a bulk of hope in Rahul and Chris Gayle, pray that Andrew Tye and Mujeeb-ur-Rahman have a great day with the ball, bet on some inspiration from their captain, R Ashwin… only to witness middle-order brain-fade after middle-order brain-fade. Mujeeb's injury has inevitably blunted the bowling attack and some puzzling rejigs to the batting order – the latest among which was the decision to promote Axar Patel over Yuvraj Singh and Manoj Tiwary when Kings XI needed 38 off 19 balls against Mumbai – has only heightened the frustration. 
Matters have come to such a pass that even as Kings XI needed 42 from 24 balls against Mumbai Indians on Wednesday, with Rahul going from 64 to 76 by tonking legspinner Mayank Markande for two successive sixes over long-on – his feet twinkling, his head and body in a perfect balance, his bat tracing such delectable parabolas that Sunil Gavaskar's description of him as "the next big thing in Indian cricket" seemed perfectly apt for the occasion… even as Aaron Finch offered valuable support with 46 off 34 balls at the other end… even as Marcus Stoinis and Yuvraj Singh and Manoj Tiwary were padded up in the dugout… there was a niggling sense that Kings XI were about to splinter.
This niggling doubt that invariably makes its way into fans' heads – fans who are accustomed to seeing their team disappoint – often has no basis on the match conditions. It is mostly independent of the nature of the pitch, the quality of the bowling, the extent of dew and the fields being set. There is no in-depth analysis or rigorous study that brings on this dread. 
Rather it is a premonition that has built up over time, a gnawing suspicion that Kings XI are over-reliant on Rahul, that their middle-order is wobbly under pressure, that Yuvraj lacks form and Tiwary lacks match practice, that Stoinis is yet to fire and that the lower order are well capable of competing with each other for the 'Most Inept Run-out in the History of the IPL'. 
Added to this is the knowledge that this is precisely the kind of pressure that Mumbai Indians have reveled in in the past, that Jasprit Bumrah and Mitchell McClenaghan know what it takes to break this partnership and run through the rest of the line-up, that Mumbai have come through multiple such must-win games in the last few years and that the partisan crowd at the Wankhede Stadium, on sensing the smallest of openings, have it in them to amplify the pressure on each hapless, incoming batsman. 
Sure enough, Bumrah lures Finch to sky a length ball to the fielder at midwicket. Is this the beginning of the end? Absolutely, says Bumrah, who now has the frenzied crowd behind him, and goes on to shock Stoinis with a bouncer so well directed that had the batsman not got an edge, which the keeper duly pouched, he might have had to deal with a fractured nose. Is there a deadlier way to turn a game than to stun a specialist batsman with blistering pace and steepling bounce watch the ball graze the glove even before he is halfway through his nervous bat-swing?
Now it is all up to Rahul to take Kings XI home, especially since the team management shows more faith in Axar's batting skills than Yuvraj's or Tiwary's. It is Rahul who has brought the team this far – both in the match and in the tournament – and it is now up to him to complete what he has started. Fittingly he is in a mood for a glorious finish, swatting Ben Cutting to the fine-leg fence, then duping him with two consecutive reverse-paddles that rocket to the third-man boundary – shots struck with so much swagger that Kevin Pietersen (the man who pioneered the switch-hit, remember?) is about to lose his voice on air.
Is this really happening? Are Kings XI going to win this in a blaze of boundaries? Rahul can't seem to resist, especially when a slow ball from Bumrah presents itself on a length. It is too tempting, too juicy, that too for a man batting on a flawless 94, at the peak of his powers. He looks to blast it over long-off and reach his hundred in magnificent style… except the ball is so well-calibrated, so cunning it flies off the toe-end of the bat and seeks out a fielder. 
Rahul is devastated. He cannot believe that he has given it away. Kings XI still need 20 off nine balls with six wickets in hand – a perfectly gettable target for most teams under most circumstances – but Rahul's reaction seems to suggest that the game is over. Mumbai Indians seem to think the same. The Mumbai crowd is in wholehearted agreement. Bumrah obliges with three terrific balls. And McClenaghan seals the deal in the final over.
Kings XI Punjab have lost a game that they had no business losing. Yet there is nothing surprising about how they have pulled it off.
Photos: 5 famous brothers in IPL history
Watch: 'KXIP shouldn't have sent Axar in at No. 5'
(Video by ESPN Cricinfo)
​