Sushil Kumar denies involvement in Parveen Rana fracas

The Indian Express
12-01-2018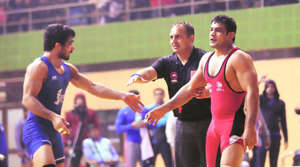 © Indian Express Sushil Kumar denies involvement in Parveen Rana fracas The Wrestling Federation of India (WFI) has referred the case involving Sushil Kumar and Parveen Rana to its disciplinary committee after the former denied his, and his followers, involvement in the violence that marred the selection trials for the Commonwealth Games (CWG) in Delhi last month. The three-member disciplinary committee is likely to summon both wrestlers for questioning after the conclusion of the ongoing Pro Wrestling League (PWL).
Earlier this month, the WFI had shot off a notice to Sushil following a written complaint by Rana accusing the two-time Olympic medal winner and his supporters of beating him up following the trials for the Commonwealth Games in December. In his reply, Sushil has refuted the allegations. "Whatever happened during the trials was unfortunate. I have condemned the incident myself so the allegations made against me are very surprising," Sushil wrote in his letter, dated January 5, to WFI president Brijbhushan Sharan Singh. "Neither me nor any people associated with me are involved in this incident."
Rana also alleged that 'fraud' was committed in the bout, which he lost 7-3, and accused the referees of acting under pressure from Sushil's corner, who he said behaved aggressively. Sushil, however, argued only his trainer stepped on the mat, that too when the referee stopped the bout. "It was never my intention to show the sport, or my rival, in bad light. I picked up an injury during the bout so my trainer attended me. My followers were not even near the mat," he wrote.
The WFI will be reviewing the bout to cross-check the claims made by both wrestlers. The federation has also accessed CCTV footage of the fight that broke out following the 74kg trials. Sushil defeated Jitender in the final of the trials to book his place in the CWG-bound squad. However, moments after the final bout, Rana alleged he and his brother were beaten up by a group of men who he identified as Sushil's supporters. They subsequently lodged a police complaint against Sushil and six others from the Chhtrasal Stadium.
A WFI official said the disciplinary committee will hear the case only if it feels necessary. "Since the incident took place outside the field of play, the federation is not responsible for it. We have sent the footage to the disciplinary committee along with the letters of both wrestlers. If they feel this is just a case where supporters of two wrestlers have gone into a brawl, then it is a police case and has nothing to do with us," the official said.
More from The Indian Express

The Indian Express