Virat Kohli County stint in T20 age dedication to improve: Moeen Ali

Hindustan Times
17-05-2018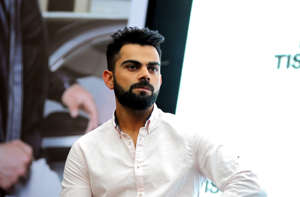 As County cricket faithful wait for Indian cricket team captain Virat Kohli to land at Surrey, England all-rounder Moeen Ali has issued a gentle warning – the 'proper big dog' is coming.
It may sound like 'Winter is Coming', warning everyone in the land of its biggest threat, in Game of Thrones. But unlike the superhit TV show, Kohli's arrival is expected to be mutually beneficial. He is looking to use the month long stint with Surrey to tune-up for India's tour of England, and avoid a repeat of his failures in 2014, when he made just 134 runs in 10 Test innings.
Kohli's battle to adjust to seaming conditions before the five-Test series in August-September is likely to draw fans in large numbers – especially Asian expats – to some of the smallest grounds such as Beckenham, Guildford and Scarborough.
"I know a few of the Surrey guys and they are not what people make them out to be a lot of the time. But if anyone in that dressing room does think they are a big dog, they will need to sit down for a little while because there is a proper big dog coming," Moeen, playing for the Kohli-led Royal Challengers Bangalore IPL team, was quoted as saying by the Guardian.
"You see him on the field and people might think he's arrogant, but it is the complete opposite. He's so humble it is almost weird how nice he is. He's the biggest name in India but will ring me to check I'm OK or ask if I fancy lunch. Sometimes a player will invite the squad to their house for a meal and it would be easy for him to say no. But he would always go. I can say with certainty that anyone who has a bad word doesn't know the guy," said Moeen, who has played for Warwickshire and Worcestershire.
All-rounder Chris Woakes, who also plays for RCB, gives his perspective on his IPL skipper. "You have your perceptions of someone like Virat, who is quite passionate, emotional, in your face and plays hard. But off the field, he's very calm and you can chat about anything. He's very down to earth, and for someone who has such huge pressure and public focus in India, to see him go about his business in this way is quite refreshing.
"In my first year of IPL (with KKR) I found as an overseas player you get a lot of attention walking through airports in India. But having him in the team – the No 1, the king – we're almost irrelevant. It makes you realise what his life is like. So County cricket will be much more chilled and he'll enjoy that. Playing at smaller grounds, that will be an experience too. Having spoken to him about it, he loves touring other countries – it's a release."
Moeen provided a glimpse into Kohli's pre-match routine. "Around 30 minutes before the bus leaves for a match, he does what he calls a priming session in the gym. It's like a short burst of Olympic weightlifting. It's certainly different but it works for him. Overall, his fitness work is having a serious impact on the next generation of Indian players. He's leaner, fitter, more agile than those before.
"When he crosses the line, he just wants to win. But it's winning with control, not win at all costs. They will see his passion for the game. It is unbelievable.
"And the fact he's coming in a day and age when people are trying to play as much T20 as they can, that sums him up – he's just dedicated to improvement. The England series is big for him personally and he's giving himself the best chance to succeed."
Photos: Cricket stars — Then and now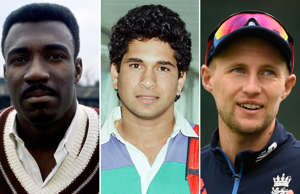 Watch: 'KXIP shouldn't have sent Axar in at No. 5'
(Video by ESPN Cricinfo)