Virat Kohli's innings vs Delhi cut short by flying Trent Boult. King Kolhi stunned!

India Today
22-04-2018
It was a stuff for ages on Saturday in the Royal Challengers vs Delhi Daredevils match in the Indian Premier League (IPL).
DD's Trent Boult stunned everyone when he pulled off an incredible catch to cut short the innings of Virat Kohli.
The expression on Kohli's face, who was left dumbfounded after Boult plucked the ball out of thin air was proof of how great the catch was.
Batting on 30, Kohli whipped Harshal Patel in the 11th over over the square and looked set to pick up another six only for Boult to do the impossible.
While it looked like the ball will sail over Boult, the bowler had other ideas as he put his right hand up and gosh the ball stuck. He fell just millimeters ahead of the boundary forcing Kohli to leave the pitch.
"[The catch} I was stunned when he took it, that's a brilliant catch, it happens in the IPL specially. Good to see. That's a catch when you look back, you don't feel bad about getting out," Kohli said after the match.
Here's what happened:
Over 10.6: OUT! Catch of the season, surely! Trent Boult has plucked a beauty! You can watch this again and again on loop. It's a massive breakthrough as well. Body blow to Bangalore as their skipper falls. Harshal Patel gets lucky with this wicket. A rank full toss on the pads, Kohli with his wonderful wrists whips it aerially over square leg where Boult is stationed.
He just leaps, stretches his right hand out and it sticks. Goes down, keeps hold of the ball and does well not to touch the rope. Immediately stands up, turns and claims the catch. Kohli has shock written all over his face. The umpires get together and then go upstairs. The replays roll in and it finds that Boult has taken a ripper. All clean and it breaks the 63-run partnership. Bangalore will feel the heat now.

The stunning catch, however, couldn't help DD win the match as they lost by six wickets against RCB.
ये भी पढ़ें : IPL मैच में हुआ कुछ ऐसा कि इस प्लेयर को देखते रह गए विराट
Chasing a target of 175, De Villiers proved to be the hero of the match for the Bengaluru franchise as his unbeaten 90 helped them secure their second win of the season.
Batting first, Delhi made 174 riding on Rishabh Pant's 85 and Shreyas Iyer's 52.
The Gautam Gambhir-led side are now at the bottom of the points table, having lost four out of their five matches so far.
Photos: Biggest flops in IPL history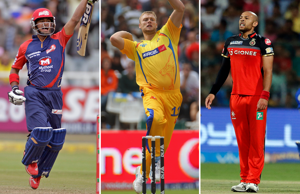 Watch: 'Once AB goes aerial, he can't be stopped'
( Video by ESPN Cricinfo)
More From India Today

India Today