Armed man takes three hostage in Paris

The Telegraph
12-06-2018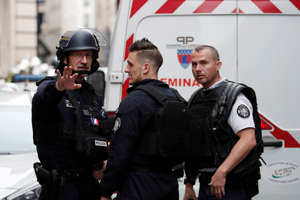 © Reuters French police secure the street as a man has taken people hostage at a business in Paris, France, June 12, 2018. REUTERS/Benoit Tessier A man claiming to be armed with a bomb and revolver has taken three people hostage in Paris, police have said.

One hostage has a head injury, Yves Lefebvre, a police union spokesman, said.
© Provided by The Telegraph Police have sealed off streets near the scene in the 10th arrondissement and are negotiating with the hostage-taker, Mr Lefebvre said.

The incident is not believed to be a terrorist attack although the hostage-taker has reportedly demanded to speak to the Iranian embassy.
Police have not confirmed that the hostage-taker is armed.   
Media reports said one of the hostages is a pregnant woman but police gave no details about the identities of those being held at the office of an IT company.
Police have sealed off several streets near the scene and children are not being allowed to leave nearby schools.
At least one café was evacuated near the offices of the IT company where the hostages are being held.
Fire crews are also standing by at the scene.