First video of Thai soccer team since their rescue shows them waving as they recover in hospital

INSIDER
11-07-2018
© Provided by Business Insider Inc thai cave rescue boys hospital Thai PBS/YouTube
Thai officials have shown the first videos of the soccer team recovering in hospital after their dramatic escape from a flooded cave complex.
Members of the Wild Boar soccer team can be seen wearing face masks and hospital gowns in separate beds in a sterilized ward, in a series of videos shown to reporters at a press conference on Wednesday evening.
The boys were waving and pressing their palms together in a prayer-like fashion, which is a Thai greeting.
Played a short clip of the boys in hospital #ThamLuangCave pic.twitter.com/3tGPkmbTG4

— michael safi (@safimichael) 11 July 2018
In pics: Thai cave rescue mission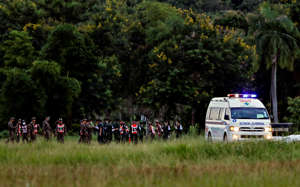 Their family members can also be seen waving to the boys through a glass window. Some of them can be seen crying as they see the children.
Wild Boars' parents visit them at Chiang Rai hospital Wed afternoon, overwhelmed by emotions. Many wave to their children, some cry. Doctor confirms everyone is healthy. So are Thai SEALs https://t.co/6JUKDRlUqS pic.twitter.com/2vGQ4W3CGB

— Pichayada P. (@PichayadaCNA) 11 July 2018
The last members of the team were pulled out on Tuesday evening after a three-day mission to extract them from the Tham Luang cave network.
The 12 boys and their coach each lost an average of 2 kg (4.4 lbs) in the 17-day ordeal, but are generally in good health and have shown no signs of stress, health officials said on Wednesday.
The team has a long recovery ahead, with porridge to eat, quarantine, and limited entertainment.
Watch: Boys, coach freed after a dramatic operation
(Video by Fox News)